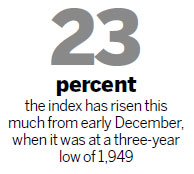 The Shanghai Composite Index exceeded the 2,400 level for the first time in nine months after rising for five consecutive days, gaining 1.41 percent to 2,419.02 points on Friday.
The index has risen by about 23 percent from early December, when it was at a three-year low of 1,949. It rose 4.76 percent on average in January, on signs that economic growth is accelerating.
Also on Friday, the Shenzhen Component Index increased 1.58 percent, while the Hang Seng China Enterprises Index of mainland companies traded in Hong Kong rose 0.7 percent.
Securities companies led the market with a 5.14 percent increase, followed by insurers with 5.03 percent and banks with 2.74 percent.
The securities firm bull run was boosted by rumors that a new regulation in March, covering approvals to establishing such companies, will provide easier access for private equity companies joining competition in the securities sector.
"The news has yet to be confirmed, but it is a trend that government control of securities companies is going to be liberalized," said Mao Changqing, chief strategy analyst at CITIC Securities Co Ltd.
"The stock market still has more room to increase, and the rising trend will last until the Lunar New Year on Feb 10," Mao predicted.
But Xiang Weida, director of the research department at Great Wall Securities, voiced doubts. "This is already an intensely competitive marketplace for securities companies. The government may focus on mergers and acquisitions of securities companies."
In addition, China's Purchase Managers Index, which tracks manufacturing activity, stood at 50.4 in January, compared with 50.6 in December, the National Bureau of Statistics and China Federation of Logistics and Purchasing said. The latest figure is lower than the expected 50.9.
"It indicates that China's economy is growing at a moderate pace, a sign of economic recovery," Xiang said.
According to statistics from China Securities Investor Protection Fund Corp Ltd, investors have been diverting more funds to the A-share market in recent months. The net inflow of funds reached 50.1 billion yuan ($8.04 billion) recently.
Xiang said: "The country's GDP is expected to grow by at least 8 percent this year. If companies' earnings rise by about 10 percent as widely expected, stocks will increase by between 15 and 20 percent this year."
CITIC Securities forecast the stock market will rise by about 10 percent this year.
huangtiantian@chinadaily.com.cn
(China Daily 02/02/2013 page10)