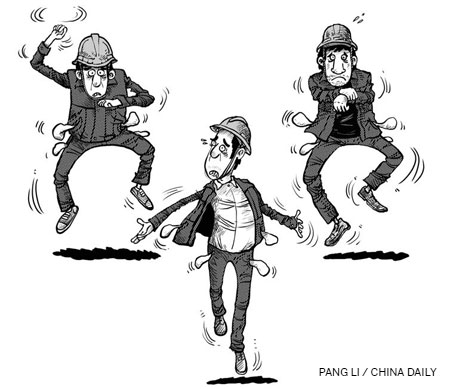 A new but sad story is unfolding across China. With Spring Festival approaching, migrant workers have taken to the performing arts - not for recreation but for getting their dues. In Wuhan, Hubei province, several migrant workers performed Gangnam Style dance to demand their salaries. In Xi'an, Shaanxi province, they dressed up as ancient officials to seek their collective dues of about 4 million yuan ($642,764).
Migrant workers are resorting to such methods also because society, in general, has become insensitive to the rising number of cases of their fellow workers' threatening to jump from tall buildings in a desperate bid to get their hard-earned money.
The amendment to the Criminal Law in 2011 made defaulting on wages a crime and was expected to solve the problem of wage default. But almost two years on many migrant workers are still not paid on time.