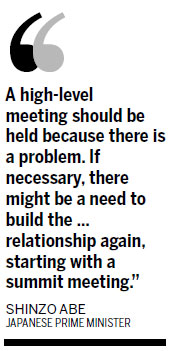 Tokyo urged to 'respect' feelings of neighbors
Beijing urged Japan on Tuesday to take a "responsible" attitude toward history and "respect the feelings of Asian people" in response to Tokyo's plan to revise previous official statements about its wartime history, including a landmark 1995 apology for Japan's aggression during World War II.
Analysts said the plan is the latest attempt by Shinzo Abe's conservative administration to remove the shackles of the country's post-war pacifist system. But the move would raise hackles in Asian countries that suffered under Japan's military aggression and colonization, especially China and South Korea, which have territorial disputes with Japan.