Morsi declares state of emergency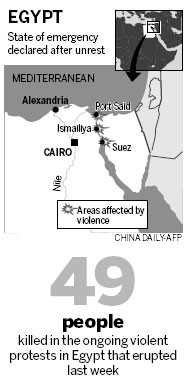 Egyptian President Mohammed Morsi declared a monthlong state of emergency in three cities on the Suez Canal, where dozens of people have been killed in protests that have swept the nation and deepened a political crisis facing the Islamist leader.
Hundreds of demonstrators in Port Said, Suez and Ismailia turned out against the decision within moments of Morsi's announcement late on Sunday, which came after the death toll from protests and violence that erupted last week hit 49.
Morsi also called for a national dialogue with his rivals for later on Monday, but the early response from members of the main opposition coalition suggested they saw little point, saying the president only seemed to listen to his allies.

Today's Top News
Editor's picks
Most Viewed