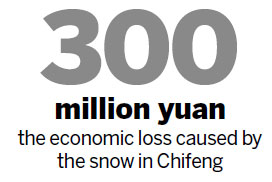 Residents of Aohan Banner, Chifeng, in the Inner Mongolia autonomous region, are fighting the biggest snow disaster to hit the region in two decades.
The newly cleaned road connecting the banner seat and the countryside became snowy and icy again as another heavy snow hit the eastern part of Inner Mongolia on Sunday.
Off-road vehicles can drive at less than 30 km/h along the slippery road covered by thick ice.