CNPC sets sights on investment in Iraq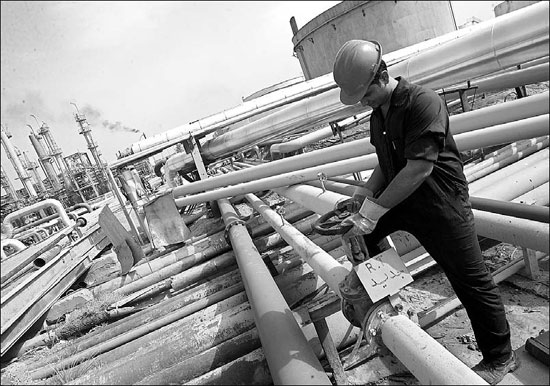 A worker adjusts a control valve at an oil refinery in Baghdad, Iraq. China will become a major consumer of Iraq's oil and will continue to invest substantially in Iraqi oil production infrastructure, according to the International Energy Agency. Muhannad Fala'ah / Getty Images
Oil giant wants to buy 60% of Exxon Mobil stake for $50b, reports say
The energy giant China National Petroleum Corp is looking to expand its business in Iraq.
US oil company Exxon Mobil Corp wants to sell stakes in the West Qurna phase 1 oilfield in Iraq, and CNPC unit PetroChina, China's largest energy producer, is interested in buying 60 percent for $50 billion, according to Reuters.
An official who declined to be named at CNPC said he has not been informed of the deal, while Exxon Mobil declined to comment on Wednesday.
However, another industry insider who works at an organization under CNPC told China Daily the company has shown great interest in buying stakes in the West Qurna phase 1 since last year. "It's just too sensitive to release anything now," he said.
The insider said that since CNPC signed a service agreement with Iraq's Ministry of Petroleum on the development of the Al-Ahdab oilfield in November 2008, the company has accumulated rich experience in Iraq.
As one of the biggest oilfields in Iraq, West Qurna phase 1 has reserves of about 10 billion to 15 billion barrels, with a highest daily output of 1 million barrels.
CNPC has three oil projects in Iraq - the Al-Ahdab, Rumaila and Halfya oilfields, with an overall daily output of about 1.6 million barrels, accounting for about half of Iraq's total daily output.
Iraq's oil output will exceed 6 million barrels a day in 2020 and rise to more than 8 million barrels a day in 2035, according to a report from the International Energy Agency in November.
It said China will become a major consumer of Iraq's oil, and will continue to invest substantially in Iraqi oil production infrastructure.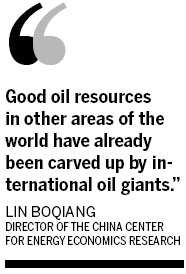 Half of Iraq's oil production will eventually go to China, Fatih Birol, the agency's chief economist, estimated.
However, a Chinese expert said investing in Iraq's oil industry still carries high risks due to the current political situation there.
"Good oil resources in other areas of the world have already been carved up by international oil giants, and there are not many choices left for Chinese companies," said Lin Boqiang, director of the China Center for Energy Economics Research at Xiamen University.
To satisfy the country's energy demand, companies are looking both overseas and domestically.
China's oil output in the past year reached 207.5 million metric tons, up 1.9 percent year-on-year, according to figures from the China Federation of Logistics and Purchasing.
The country's oil output in December reached a record high of 17.94 million tons - an increase of 5.6 percent year-on-year as the nation's economic growth started to rebound after slowing for seven quarters.
China's GDP growth rose from 7.4 percent in the third quarter to 7.9 percent in the fourth quarter last year.
The Changqing oilfield in western China, owned by CNPC, will replace the Daqing oilfield to become the largest oilfield in the country with an annual output of 50 million tons by 2015, according to figures from the company's website.
In the past year, the Changqing oilfield had a total output of 45 million tons.
dujuan@chinadaily.com.cn
(China Daily 01/24/2013 page16)
Today's Top News
Editor's picks
Most Viewed