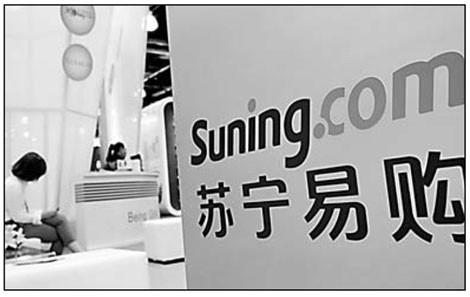 Suning Appliance Co is poised to apply for a network services license, the company said in a statement. Chen Jingwei / For China Daily
Suning Appliance Co, whose business spans electronics, retail malls and e-commerce, will soon be identified as a telecom carrier, aided by a new government directive.
"Ideally, when customers buy mobile phones at either Suning's brick-and-mortar outlets or the online site, the devices come with a package that offers you a SIM card and a customized voice-and-data combo tailored to your needs," said Sun Weimin, Suning's president.
The company's new market buoyancy will be bolstered by a recent trial operated by the Ministry of Industry and Information Technology that allows private Chinese companies to offer mobile communications services directly to end users.
By purchasing bandwidth from telecommunications carriers, new entrants will stay focused on providing unique services that will differentiate them from the big three existing operators, China Mobile Ltd, China Unicom (Hong Kong) Ltd and China Telecom Corp Ltd.
The draft of the directive proposes a two-year trial whereby telecom operators will be required to sign up at least two service resellers.
The ministry said the measure is the latest move in China's bid to promote and introduce private capital in the telecom industry, which aims to boost competition and quality of service. It is collecting public feedback on the proposal until Feb 6.
China Mobile, the largest mobile carrier by user numbers, "has always, and will continue to support telecom reform led by the MIIT. The company will carry out relevant works by keeping close pace with the ministry", said company spokesman Ren Liangchuan.
China Unicom and China Telecom have not yet responded to request for interviews.
The plan marks the end of an industry monopoly held by the State-owned telecom trio, said Xiang Ligang, a veteran industry commentator and founder of CCTime, a telecom information portal.
"I think the new policy sends a positive signal that also effectively lowers the threshold for private capital to thrive in the market, without redundant input in infrastructure, providing opportunities to even smaller-cap firms," said Chen Tao, a partner at Roland Berger Strategy Consultants in Beijing.
A mobile virtual network operator, or MVNO, is a provider of services and a reseller of network services from other telecom suppliers that do not own spectrum, Chen said.
A MVNO usually leases bandwidth at wholesale rates from telecom providers to provide customers with tailor-made solutions.
"The MVNO re-brands the service to resell to end users. While the MNVO does not build its own infrastructure, it must set up a customer-support system and other business operations-related systems," he explained.
Suning, which boasts the country's largest number of appliance sales, is poised to apply for an MVNO license.
To ensure that it will be among the first batch of candidates to obtain the regulatory green light, the company set up a working group for the job, according to an e-mail statement.
The electronics conglomerate believes it is well positioned to meet the application requirements, which include experience of telecom-related work, consistent and long-lasting profitability and a team of 50 people to oversee the business.
"We have been housing booths of (the three big) telecom operators in our 1,700 outlets across the country for about a decade. We are familiar with the workings of the telecom business," said Sun.
He said that the license will allow the company to "think outside the box" by attaching value-added service packages to the smartphones it sells. He did not elaborate.
Essentially, MVNO business consists of managing two key relationships - mobile network operators, or MNOs, and end-users, said Xu Zhen, a telecom specialist with d1net, an information technology portal.
"It means that MVNO business is mostly a market-segmentation game for mature marketplaces. They must have existing valuable assets to leverage more efficiently than their respective host-MNOs do, in order to add value to the overall mobile-services supply chain," said Xu.
To succeed, MVNOs need to possess an existing distribution system and a solid customer base on which to perform the cross-selling of products and loyalty programs. These have put companies such as Suning in an advantageous position, said Chen.
In addition, it is essential to have a brand with renowned business prestige or a high level of recognition among customers. Having valuable audio-visual content or innovative applications delivered on mobility is a plus, he added.
The policy "will not reshape the industry because it helps expand the pot for host-MNOs' resources, at least for now", said Chen.
However, there is still concern that the move will herald radical changes in the telecom landscape, including the introduction of Internet phone, which largely reduces dependence on voice businesses provided by traditional carriers, Xu noted.
"Because of the possible resistance from host operators, MVNOs should not count on profitability in the short run. Instead, they should leverage the customer base to boost revenue in other business segments," he said.
hewei@chinadaily.com.cn
(China Daily 01/23/2013 page16)