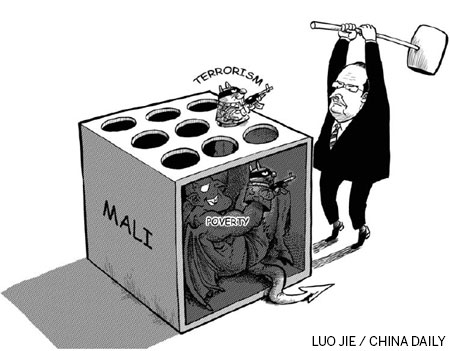 For historical but also geographic reasons, France considers the crisis in Mali one of its top external priorities, and facing the risk of seeing Mopti captured by jihadists, President Francois Hollande ordered the French military to intervene in the Sahelian country.
Forty-eight hours after Hollande's decision to launch "Operation Serval" on Jan 11, former French prime minister Dominique de Villepin expressed his opposition to the Socialist government's decision. As the symbol of the "no" to the US war in Iraq, de Villepin's views matter. He also rightly points at the failures in Afghanistan and Libya evoking a powerful ideal: "La guerre ce n'est pas la France" - "War is not France".
But a moral stance does not constitute an answer to an immediate danger, and the affirmation of an ideal cannot stop the creation of a "Sahelistan", a realm of brutality and obscurantism, by fighters from al-Qaida in the Islamic Maghreb or from Ansar Dine.