Putting some fizz into the wine market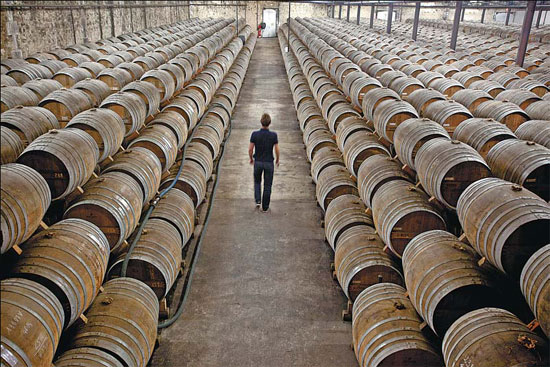 An employee walks between barrels of Remy Martin Fine Champagne Cognac, laid to age in a cellar at the Remy Cointreau SA headquarters in Cognac, France. However, Champagne - a unique sparkling wine associated with luxury and power over the centuries - has yet to receive widespread recognition and acceptance by the Chinese. Provided to China Daily
When talking about Bordeaux, many Chinese people know it is the most famous luxury wine production and trading base in France. However, when talking about the Champagne region in France, many are unaware that it is the only production region for champagne in the world and its name has been legally protected to prevent other producers of fizzy wine from trading on it.
In China, the red wine market is booming and owning expensive wine is becoming a symbol of good fortune and social status. However, champagne - a unique sparkling wine associated with luxury and power over the centuries - has yet to receive widespread recognition and acceptance by the Chinese.
"Compared with red wine, the acceptance of champagne is still limited," said Wang Wei, director of the Comit Interprofessionnel du Vin de Champagne (CIVC) in China. CIVC is the trade organization of champagne in France that oversees the global champagne market. One of CIVC's missions in China is to promote champagne and tell the story behind it to the Chinese.
Currently, the annual output of champagne is about 300 million bottles, of which 150 million bottles are sold globally. Only 1.3 million bottles of champagne were sold in China in 2011, an increase from the 300,000 sold in 2006. Wang said about half the demand for the drink came from Shanghai.
Officially introduced to the Chinese market in 2006, the demand for champagne is increasing gradually. However, market awareness is far below red wine. Most Chinese know Lafite is one of the most expensive red wines in the world but not many people can name the best champagne in the world.
Figures from consulting firm Euromonitor show that a total of 1.3 billion liters of red wine were consumed in China in 2011. In comparison, champagne consumption was only 900,000 liters in 2011.
In recent years, champagne has been increasingly seen at weddings and celebration parties in China. However, in many cases, newlywed couples only pour champagne down an ornate arrangement of glasses for a photo but do not drink it.
"The taste is light and a little bit strange. I think many guests, especially elderly people do not like that cold wine with bubbles," said Liu Hui, a white-collar worker in Shanghai whose wedding ceremony was in September 2012.
"In Western countries, champagne is consumed before meals. However, in China, on the rare occasions champagne is needed, most is drunk in bars and clubs," said Wang.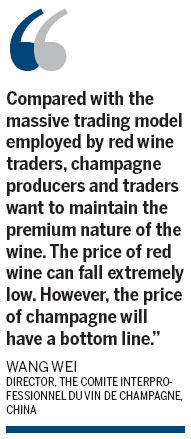 Many Chinese people believe champagne was developed for ladies and is not suitable for business banquets, he added.
Wang said the different qualities of different types of champagne mean traders can take different approaches to explore the market.
"Compared with the massive trading model employed by red wine traders, champagne producers and traders want to maintain the premium nature of the wine," said Wang. "The price of red wine can fall extremely low. However, the price of champagne will have a bottom line."
In an ordinary store in China, the cheapest champagne is around 500 yuan ($80.26) per bottle. The price will be much higher in bars and clubs.
Wine market experts said the special taste of champagne is a factor that makes it less popular in China than red wine.
"Chinese people do not like the acidic taste of champagne. They also do not like wine with bubbles in it," said Vance Yang, champagne master with Le Sun Chine in Shanghai.
Federico Tabja, Chile's trade commissioner, who saw red wine exports from Chile increase 19.6 percent to 1.38 million cases (9 liters per case) in the first eight months of 2012, said Chinese people do not like drinking cold beverages. And the strong, fruity taste of champagne is relatively strange for Chinese customers.
Meanwhile, the relatively mature red wine market encourages Chinese people to choose something they are more familiar with.
"Red wine entered the Chinese market early and people are more familiar with it. Drinking red wine is trendy nowadays," Tabja said.
A market insider said one way to make the taste more acceptable is to add syrup to champagne to lower the acidity, which is providing big business opportunities to syrup providers including France-based premium syrup maker Monin.
Despite the champagne business currently being small compared with other imported alcoholic drink businesses, insiders believe the market will get mature.
"We have seen significant growth in the champagne market in the past six years and we have high expectations for the market. We want demand in the Chinese market to be as high as it is in Japan," said Wang. Japan is the largest champagne market in Asia.
Xie Yu in Shanghai contributed to this story.
tangzhihao@chinadaily.com.cn
(China Daily 01/21/2013 page13)
Today's Top News
Editor's picks
Most Viewed