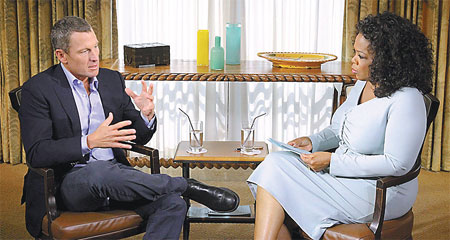 Cyclist Lance Armstrong (left) told Oprah Winfrey in an interview aired this week that he used the blood-booster EPO, blood-doping transfusions, testosterone and human growth hormone over the course of his career. "All the blame here falls on me," he said. Harpo Studios / Reuters

Disgraced cycling legend Lance Armstrong's fierce defense of his record finally collapsed on Thursday when he admitted his seven Tour de France titles were fueled by an array of drugs.
"I made my decisions. They're my mistake," Armstrong told US talk show host Oprah Winfrey in his first interview since he was stripped of his record yellow jersey haul and banned from sport for life.