China will see a rise in its high-tech machinery exports to Russia following its entry to the World Trade Organization and as the country seeks to upgrade its industrial sector, an expert said.
Wang Junwen, president of China Association of International Trade, said trade between China and Russia has grown rapidly and changed in recent years.
He said that high-tech machinery exports could account for up to 70 percent of bilateral trade.
"Among the high-tech machinery exports, 60 to 70 percent will be complete machinery sets, which are greatly needed for the reconstruction of Russian enterprises," Wang said at the Boao Forum for Asia SME Conference 2013.
Much of this machinery is needed for infrastructure construction in Russia such as power stations, and the proportion is still rising. "Therefore, our cooperation with Russia will continue to focus on high-tech industries," he said.
"China's technological level has made significant progress 10 years since our entry to the WTO, which laid a solid foundation for high-tech cooperation with Russia," he said.
According to the General Administration of Customs, trade between China and Russia was worth $88.1 billion in 2012, up 11.2 percent year-on-year.
The two sides agreed in June 2012 to raise bilateral trade to $100 billion by 2015.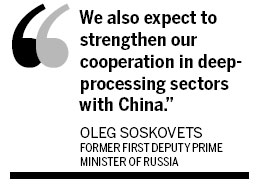 After Russia's accession to the WTO, its overall tariff level will fall to 7.8 percent, from 10 percent in 2011. Russian President Vladimir Putin has pledged to build Russia into an emerging industrialized country.
Wang said the country has the resources and skills to achieve its goal, but it lacks adequate human resources to compete in labor-intensive industries with countries such as China.
During a visit to Moscow in December, Vice-Premier Wang Qishan said China will continue optimizing the bilateral trade structure, and expand trade in high-tech and higher value-added products, as well as investment exchanges.
Russia will accelerate the development of its Far East region, also generating opportunities for cooperation with China.
Oleg Soskovets, former first deputy prime minister of Russia, said the country is striving to create conditions to attract foreign investment, including from China.
Chinese businessmen have shown great interest in developing the Far East region, he said.
Without such cooperation, Russia would be unable to tackle all of the problems it encounters in its development, added Soskovets.
"We also expect to strengthen our cooperation in deep-processing sectors with China.
"China's high-tech industries can be complementary with Russia. There has been cooperation in energy and forestry resources in the Far East region, and I believe such cooperation will be deepened," he said.
The World Bank estimated that Russia's entry to the WTO will allow its economy to grow 3 percent, as lower tariffs will help stimulate the country's domestic purchasing power.
The country is also expected to further open its economy in sectors such as finance and telecommunications.
However, Wang Junwen said there are still many informal procedures in the Russian market, and Chinese companies should carefully select their partners.
weitian@chinadaily.com.cn
(China Daily 01/18/2013 page14)