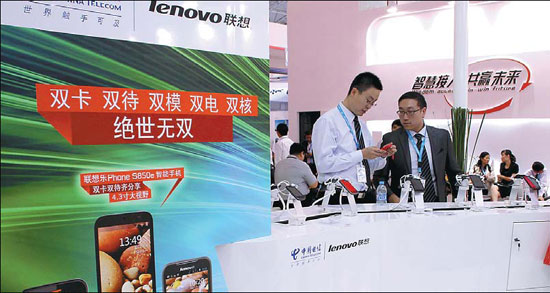 Lenovo Group's smartphone stand at a trade show in Beijing. The electronics giant, which is already a major player in the smartphone and personal computer sectors, is in the final stage of talks to buy a TV plant from Sharp Corp. Wu Changqing / For China Daily
PC, smartphone giant ventures into new waters with Japan's Sharp
Mergers and acquisitions will help Lenovo Group strengthen its position in the television market, analysts said after news leaked that the world's largest maker of personal computers is in talks with Sharp Corp about purchasing a TV plant in East China.
Lenovo is in the final stage of negotiating with the Japanese electronics company about buying the plant that produces liquid-crystal-display TV in Nanjing, Jiangsu province, the Japanese news website Nikkei.com reported on Thursday without citing a source.
Lenovo declined to comment.
"TV is definitely an important part of Lenovo's product strategy beyond PCs," said Bryan Wang, vice-president and principal analyst at the research firm Forrester Research Inc.
"While Lenovo has strengths in developing operating systems and bringing together a variety of content for consumers, the brand lacks knowledge of TV products," he said.
Lenovo announced an ambitious TV strategy in 2012 and introduced its first Android-based "smart" TVs, which run on Google Inc's Android operating system in May last year.
The Beijing-based company has not disclosed how many of those products it has sold.
Yang Yuanqing, Lenovo CEO, said in a Jan 4 interview that the company is interested in using purchases to expand the business, according to Bloomberg News.
Acquisitions are "a good means of driving expansion and building capability", Yang said. "We will continue to use this means if we can find the right targets."
A deal to buy Sharp's TV plant will give Lenovo more control of the production of televisions and an end-to-end supply chain, Wang said.
Yet the smart TV market, on which Lenovo is betting its money, remains in its "infancy", he said.
"Within the next two or three years, the market could be five or even 10 times as big as it was in 2012."
Analysts said the deal under discussion will most benefit Sharp. The company's stocks advanced to a six-month high in Tokyo trading on Thursday.
In a separate deal, Sharp plans to sell a plant in Malaysia, Nikkei reported, adding that combined with the Chinese plant deal, it could bring the company about 30 billion yen ($335.81 million).
The Malaysian plant has drawn the interest of the Taiwan-based Wistron Corp, Nikkei said. The company's shares rose as much as 6.6 percent in Taipei trading.
Joyce Chou, a spokeswoman for Wistron, declined to comment on the possible deal, the report said.
"I think the issue is more about Sharp itself, about its lack of the means of further supporting its businesses," Wang said.
Looking forward, Wang suggested that Chinese TV makers concentrate on innovating and try to change the way consumers use content.
gaoyuan@chinadaily.com.cn
(China Daily 01/18/2013 page15)