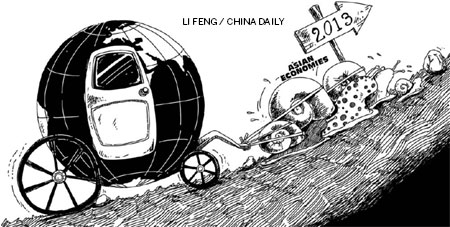 The growth rate of emerging Asian economies is expected to increase in 2013. But inflation and gloomy external conditions still pose a challenge for the macroeconomic policies of many of these economies. In the medium term, their growth rate will be higher than other regions but lower than it was before the global financial crisis. This squarely puts the focus on economic reform and restructuring.
Though Asia's economy is likely to bottom out this year, it will find it difficult to overcome the problems created by the sovereign debt crisis in Western countries. Besides, emerging Asian economies face several source risks.
First, they cannot avoid the impact of the slow growth and weak demand of developed economies, which will take a long time to emerge out of the sovereign debt crisis despite deleveraging.