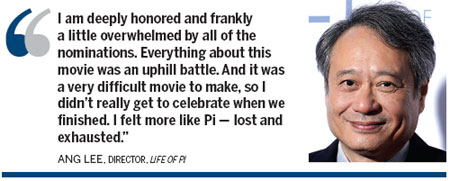 Steven Spielberg's taut political drama Lincoln won the Oscars election on Thursday with 12 nominations for the Academy Awards, the climax of Hollywood's annual prizes season.
Ang Lee's stunning 3-D adventure Life of Pi, based on the novel by Yann Martel, earned 11 nods from the Academy of Motion Picture Arts and Sciences, ahead of the Oscars ceremony on Feb 24.
Meanwhile, Silver Linings Playbook became the first film since 1981 to win nominations in all four acting categories plus best film, best director and best writer, according to the academy.