Alibaba restructures subsidiaries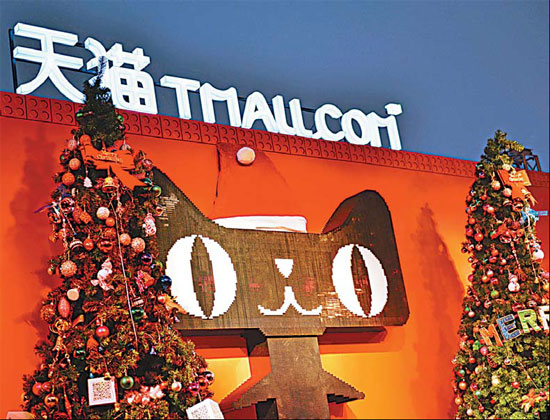 From the start of 2012 to Nov 30, the value of transactions on Taobao.com and Tmall.com, the two online shopping arms of Alibaba Group Holding Ltd, came to 1 trillion yuan ($160 billion), an amount equal to about 2 percent of China's GDP in 2011. Long Wei / For China Daily
E-commerce company turns seven groups into 25 divisions
Alibaba Group Holding Ltd, China's biggest e-commerce company, has restructured its seven business groups, turning them into 25 business units in the second such change it has made in six months.
The restructuring is "the most difficult one" the company has undertaken since it was established in 1999, said Jack Ma, Alibaba chairman and chief executive officer, in an e-mail sent to company employees on Thursday.
The previous change came in July 2012, when the company made its six subsidiaries into seven business groups, a step meant to strengthen its control over its various business arms.
The latest restructuring, which has further divided its business into smaller units, is aimed at making the company's organization more agile in the mobile Internet age, Ma said.
Analysts said the recent changes have come as preparation for Alibaba's listing as a single company.
"Change is painful," Ma said in the e-mail. "But if we don't change, we won't even have a chance to feel those pains."
According to the company, its new structure has provided it with a decision-making committee and management and execution committee that will be in charge of planning and executing strategies.
Nine executives will oversee the 25 new business units, up from the seven people who have had similar responsibilities since July.
The changes are the latest in a series of restructurings the company and its competitors have undertaken in the past two years.
Tencent Holdings Ltd, China's biggest Internet company by sales, and Sina Corp, which operates China's most popular micro-blogging service, both modified the structures of their organizations in the past year.
"Chinese Internet companies have realized they cannot remain the same when so many changes are taking place in the industry, such as the increasing popularity of mobile Internet," said Xie Wen, a Chinese IT expert and former president of Yahoo China, which is a part of Alibaba.
He said the decision to change subsidiaries into business units suggests that Alibaba might be seeking to list its entire group.
Last May, Alibaba regained boardroom control from Yahoo Inc, formerly its biggest shareholder, buying back as much as half of Yahoo's previous stake. Incentives included in the deal to encourage Alibaba to go public are scheduled to expire by December 2015.
Alibaba said it has no plans to seek a public listing.
Qiu Lin, an Internet stock analyst at Guosen Securities Co Ltd in Hong Kong, said the company's latest decision to create so many business units may "make coordinating among the different business arms more difficult and increase management costs".
Ma said the recent restructuring is just a beginning and further changes will come in subsequent years.
From the start of 2012 to Nov 30, the value of transactions on Taobao.com and Tmall.com, the two online shopping arms of Alibaba, came to 1 trillion yuan ($160 billion), an amount equal to about 2 percent of China's GDP in 2011.
For Nov 11, a day on which Alibaba holds an annual promotion, the two websites reported sales of 19.1 billion yuan. That was more than one and a half times the value of online sales recorded in the United States on so-called Cyber Monday, or Nov 26, the day following Thanksgiving weekend.
chenlimin@chinadaily.com.cn
(China Daily 01/11/2013 page15)
Today's Top News
Editor's picks
Most Viewed