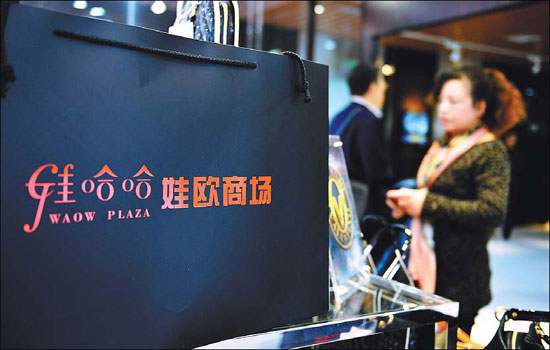 Customers in WAOW Plaza, which is owned by Wahaha Group. The plaza is expected to develop into a chain of high-end shopping centers for European and American luxury brands. Long Wei / For China Daily
Zong Qinghou wants to emulate the success of London's Harrods store
There must have been a risk of red faces in Italy's fashion capital, Milan.
Although China's beverage tycoon and billionaire Zong Qinghou leads a mostly austere lifestyle and, until recently, showed little interest in fashion, many would have hoped when he arrived there on a buying spree he would get the red carpet treatment.
As the world's 23rd richest man, he was about to embark on a multi-million dollar new venture.
However, delighted local officials first directed him to some smaller-sized producers. Unsatisfied, Zong demanded to meet larger-scale companies.
The Italian trade commission arranged more than 600 meetings and gave special access to exclusive exhibitions for the Chinese delegation in cities such as Milan and Florence, said Antonino Laspina, the Italian Trade Commissioner in Beijing, coordinator of the ICE offices in China and attache for trade promotion at the Italian Embassy in Beijing.
"It is not easy to understand what kind of products are suitable for the Chinese market when you approach such big projects," he said.
Small wonder the juice giant wants to raise his profile. His soft drinks empire - Hangzhou Wahaha Group Co - remains based in a gray, six-story building adjacent to the city's railway station despite the company's huge growth and the dramatic rise in his own income in just 25 years.
Every morning, Zong has the same breakfast from the staff canteen. He had a reputation for going to work in simple clothes and wears a pair of traditional Chinese cotton shoes. The commander-in-chief of 170 subsidiaries and boss of some 30,000 staff does not need to prove he is rich.
Zong topped the Hurun Rich List in 2012 with a personal fortune of $12.6 billion for the second time. But at the age of 67 Zong has suddenly taken an interest in fashion and luxury. He started to wear European luxury fashion brands and even endured a two-hour photo shoot for a fashion magazine.
Many of his employees have not seen him so passionate since he purchased production lines for a new beverage-manufacturing base.
During our interview he stood up and walked into the next room, returning in a cashmere suit. "It is Gregory from Italy," he said, excitedly. "Warm and light. Only 4,000 yuan ($645)."
Zong is trying to sell his new venture - an ambitious plan to develop a Chinese version of London's famous store Harrods or Paris' Lafayette.
WAOW Plaza, a name partly coined from the initial characters from Wahaha and Europe in Chinese, is expected to develop into a chain of high-end shopping centers for European and American luxury brands.
But unlike the first-tier luxury brands, the brands to be sold at WAOW, while being well designed and popular, are largely unknown by Chinese customers, Zong said. He also plans to sell some brands from the United States and the United Kingdom. "They are good at innovation and update their product lines quickly."
The first shopping mall opened last month in Hangzhou, having been established in just four months. Retail experts are worried the facility's simple layout, scarcity of visitors and the fact that Zong has moved out of his comfort zone, where the business return is much faster, do not bode well.
"Nothing at an early stage is perfect," Zong said, in his low but firm voice. "But it will grow quickly."
Zong insists his experience in selling soft drinks can be used in the luxury sector. The secret is to shorten distribution channels to save costs while speeding up advertisement and development, he said.
Loathing the high cost of first-tier luxury brands, Zong's model is to establish a buying system that entails importing products from international producers directly to lower the prices.
"We need luxury goods that are affordable to younger generations," he said. "Chinese white collar workers have grown smarter and smarter and question whether it is worth buying a 100,000-yuan bag."
According to a survey by Roland Berger Strategy Consultants in 2011, brand awareness is important for Chinese buyers of luxury goods, more so than design, quality and price. Many brands are rejected in China because they are not known, not because it doesn't suit the potential customer. But the report said in the future the question of "whether a brand suits me" would become a more important factor for Chinese people when deciding whether to buy a luxury good.
The idea to start the retail business emerged last June when Zong discovered from his overseas trips that second-tier luxury products of good quality do not have to be so expensive if unnecessary distribution methods are cut.
He led an investment team to Italy, France and Spain and brought back brands such as Castangia Dal and ANNA, from Italy and Groc from Spain. His other deals included Italian wine and olive oil.
Local governments in Europe backed their 10-day trip to Europe but it emerged they visited at the wrong time.
"We arrived during the wrong season," Zong said. "We missed the ordering season for the autumn and winter collections. So this month, we are going to Europe to get the next season's collections."
In addition to cutting out unnecessary distribution channels, Zong said the quick expansion of his shopping centers will push up profitability and benefit his suppliers abroad.
The group invested 1.7 billion yuan for the first phase. Zong expects to establish another five to 10 shopping malls next year and a total of 100 in five years across the country, he said. The new shopping centers are designed to be comprehensive facilities with a theme of Western top-end brands accompanied by retailers of children's products and entertainment centers, he said.
"We want to sell more at a lower profit than other luxury dealers," he said. "Once you open more shopping malls you develop a bargaining leverage: The prices will be lower and products become more competitive."
Doubts remain whether a man known only for making and selling soft drinks will manage as a broader retailer. Zong maintains that if he can manage manufacturing, he can certainly run retail. In fact, the billionaire started making his fortune from retail.
In 1987, the then 42-year-old Zong managed a mini-grocery store for a local school, along with three retired teachers.
"I once sold 100 popsicles by knocking door to door only to get four yuan in return," the chairman said. "Now I might make a loss at first but once I have more brands I will get more investment because I have a great reputation in China."
In comparison with the going-abroad trend among Chinese private billionaires, Zong wants to move in the opposite direction.
"If you go abroad and sell, you merely aggregate competition. They won't like you. If I buy from abroad, they will like and support me," he said.
Italian companies are satisfied with the opening of the first physical department store in Hangzhou and their systemic and sustainable approaches to invest in Italian products, said Laspina of ICE.
Because of the time they visited companies in Italy, Wahaha will be able to distinguish what is suitable to the market, he said.
Meanwhile, Italian companies began to understand more that the China market is restructuring and more similar to other mature markets, he said.
Laspina was impressed by the personal involvement of Zong. "For such an important businessman, he is directly involved in the selection and meetings," he said.
It is not the first time Zong Qinghou has collaborated with international businesses.
In 1996, Wahaha signed a joint venture agreement with Groupe Danone. But the partnership turned sour. Wahaha triumphed in a series of bitter lawsuits with Danone over control of the Wahaha name. Danone and Wahaha reached a settlement and dissolved their partnership.
For years, the beverage tycoon's success has come from his intuition and ability to think ahead, said Yang Shuyin, secretary general of Zhejiang Provincial Consultant Committee, a think tank for the development of the province's economy.
"For Wahaha, one step ahead means innovation and breakthrough," Yang said.
Zong's first crock of gold came from special nutritional milk for children, developed with a professor. It became an instant success.
When running water supplies were still unknown in many households across the country, Zong decided to sell bottled pure water.
"People thought I was crazy," he recalled. "Now, even construction workers and farmers can afford our bottled water."
He believes now is a good time to enter retail. "When others are not in great shape and we have the money, we can get in before them," he said. "When they are already here, your chances are gone."
wangzhuoqiong@chinadaily.com.cn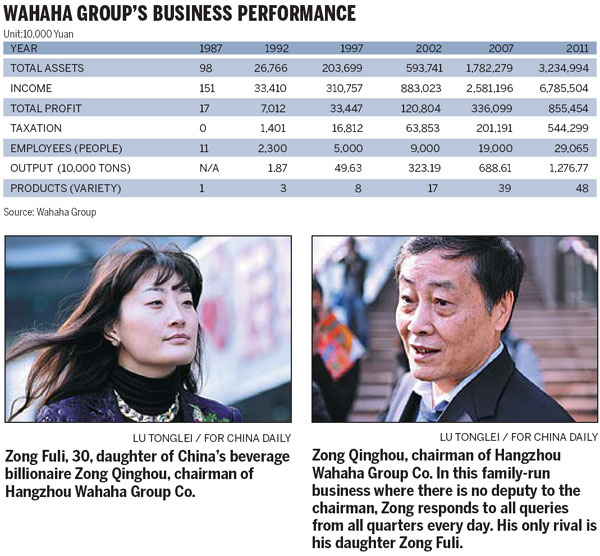 (China Daily 01/10/2013 page15)