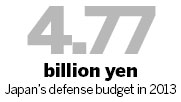 Tokyo's plan to increase its defense budget for the first time in a decade has concerned its Asian neighbors.
Observers warned that a hike in defense spending is in keeping with the unwavering intention of the new Japanese cabinet to maintain a tough position on Japan's territorial disputes, which in turn may lead to escalating tensions in the region.
Japanese Defense Minister Itsunori Onodera confirmed the government's plan to increase the 2013 annual defense budget on Sunday, while speaking on a program on Japan's NHK Television.