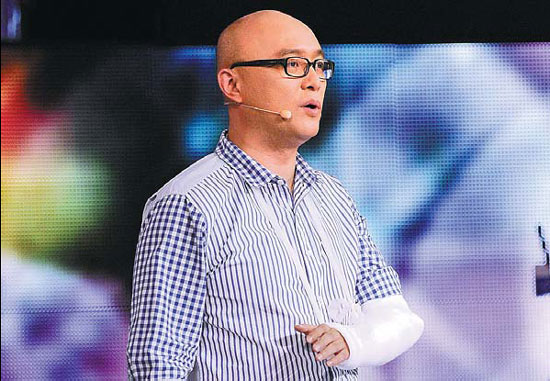 Meng Fei, anchorman of Jiangsu Television, hosting the nation's most popular dating TV program If You Are the One. He is wearing a bandage on his wounded left arm but is too busy to take days off because of his demanding schedule. Provided to China Daily
The American journalist and humorist Helen Rowland once said variety is the spice of love, an aphorism now being extended to the highest-rating Chinese dating show.
If You Are the One decided it needed something new this year so it selected Rejoice, the first brand of consumer goods giant Procter and Gamble to enter China, as a partner for a new section called Love's Around the Corner.
If the male guest is not picked by one of the 24 women candidates on the stage, he will be given a second chance among the Love's Around the Corner girls sitting among the audience in seats selected by Rejoice through various off-line activities.
Initially the new section will last for a season. Further cooperation depends on the program's own plans as well as the profits it can bring to Rejoice.
Rejoice is investing heavily in the promotion to the tune of about 500 million yuan ($80.26 million). It hopes its sales in China will be boosted by 15 percent after gaining 12 percent growth through its own efforts in the first quarter of last year, according to Zhou Haiyin, marketing general manager for P&G Greater China.
"Rejoice has always been a brand aiming at spreading love and promoting the essence of love. Based on the principle of mutual benefit, we hope this cooperation will have an impact on a larger customer base," said Zhou.
P&G is one of the most experienced consumers goods brands in cooperating with entertainment programs. In 2011, China's Got Talent was sponsored by its Head & Shoulders, helping the anti-dandruff shampoo gain a 22 percent increase in annual sales to 3 billion yuan. The recognition rate for the product witnessed a 10 percent increase in the Chinese market in which gaining just a 1 percent increase is difficult.
"The proliferation and success of such talent shows is a really good example of a genre of entertainment value based on what people like to see and vote in. That genre has been a phenomenal success everywhere in the world. It has created new audiences and people watch them live," said Steven King, global chief executive officer of the world renowned return-on-investment agency ZenithOptimedia.
"People can download most programs and they 'fast-forward' during the adverts. But with programs such as Super Girl and China's Got Talent, people watch them live and vote live. That adds much value to this kind of entertainment," he added.
Joining hands with TV programs is one way brands can be part of real life rather than just buying advertising space. Instead of placing commercials during the breaks, they now prefer to put their product inside a show, said Vincent Digonnet, president for Asia-Pacific at the world's leading interactive agency Razorfish, part of the advertising and public relations Publicis Group.
"That started some 70 years ago with the making of so-called soap operas. They were called soap operas because often cleaning product companies sponsored TV series in which their products were used. It was not advertising. It was product placement. The idea was revived in the James Bond series, which is a great example with its great product placement of BMW cars," he added.
But not every attempt at entertainment marketing necessarily results in success.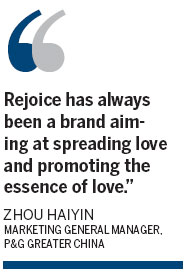 "First of all the program must be well received by audiences. Also the way the brand is advertised is very important. If a host spends 40 seconds reading the brand's name and slogan, it is very commercial and a totally hard sell. The key to success is to find something common between the brand and the program itself," said Zhou from P&G.
After thorough research into the dating program, P&G found that younger white collar workers and those who have just started their careers are the program's target audience. By happy coincidence they are also Rejoice's target customers. This shared interest lay behind the partnership.
The younger generation is tempted to buy products for different reasons than older groups.
"They are more emotional rather than rational when buying something. The feeling for the brand is a paramount consideration. Prices or benefits come second or third. They are also less loyal to a single brand, posing more requirements for new techniques and products," said Zhou.
The way in which the younger generation is exposed to brands also differentiates them from older people.
"Those above the age of 30 watch more TV. Those under 30 use the Internet more frequently. They get information from computers or mobile phones," said Steven Chang, chief executive officer of ZenithOptimedia Greater China.
The second transmission of a TV program is watched online on mobile phones or, more frequently, social network services. With SNS, the most influential user in China is still the famous actress Yao Chen, who is a celebrity closely associated with the entertainment industry. One thing leads to another, with a brand's marketing tightly related to entertainment, added Chang.
"Whether you like it or not, entertainment is the trend of the time," he said.
With the expansion of social media users in China reaching 300 million by the end of 2011 according to McKinsey & Co, brands and companies are paying more attention to it.
"Five years ago, nobody would talk about the Internet at P&G. Now we are already the No 1 among all consumer goods companies in terms of investment in new media such as social media or digital media. The number increases significantly every year," said Zhou from P&G.
Social media or digital media is also entertainment-oriented nowadays because it is the easiest to create, according to Digonnet of Razorfish. But moving forward, he thinks that it should not only be entertainment- but also service-oriented.
"A brand that provides services to consumers will endear them to customers, helping them find something or giving them an application that will help them to do something else. Traditional advertising is being trimmed more and more and new ways of engaging with potential customers are going to emerge," he said.
shijing@chinadaily.com.cn
(China Daily 01/07/2013 page13)