Lavender, lakes help county to boost local tourism
With its crystal clear lake, Huocheng is an oasis in northwest China's arid Xinjiang Uygur autonomous region.
Occupying an area of 5,720 square kilometers with a population of more than 400,000, Huocheng is a small but unique county that brings together an assortment of natural scenery.
It is also a place where the cultures of 29 ethnic groups of different faiths intermingle.
North of the county is the Tianshan Mountains, and to the south lies the Ili River.
To the west is China's border to Kazakhstan and Yining, the capital of Ili prefecture, lies to the east.
The clear lake, called Sayram Lake, is considered a key stop for tourists to Huocheng.
With a water area of 458 square kilometers, it is the largest freshwater lake in Xinjiang and at an altitude of 2,070 meters, it sits higher than any other as well.
Its deepest point is at around 81 meters below the water's surface.
Summer is said to be the best time for sightseeing. Surrounded by rolling green pastures, the lake reflects the snow-capped mountains as well as the dragon spruce trees that line its banks.
Heading to the east, one will arrive at Guozigou Valley, a deep valley situated in the Tianshan Mountains.
Some local ethnic people also call it Kansai, which means wide valley.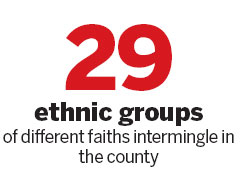 It is renowned for a large number of wild fruit trees and ample Chinese herbal medicine resources.
Two roads pass through the valley-a modern flat highway and a winding channel through a narrow canyon-both of which lead to downtown Huocheng.
Snow-capped mountain peaks, green forests and colorful wildflowers line both sides.
Guozigou Valley was an important section of the ancient Silk Road, which has contributed to the county's status as Xinjiang's economic, political and military center.
Huocheng is also a poetic and romantic county.
It welcomes many tourists who come to make solemn pledges of their eternal love in the county's vast stretches of lavender fields.
Home to China's biggest lavender-planting base, the county is one of the eight areas in the world that are famous for the brilliant purple plant.
Its yield of blossoms and essential oils accounts for 95 percent of the country's total.
Lavender is much easier to plant there than wheat and corn, a local resident said.
Huocheng is at the same latitude as the Provence, France, which is renowned as the world's lavender capital.
This gives the county similar climatic conditions and makes it ideal for cultivating the plant.
Moreover, lavender blooms twice in a year only in Huocheng.
Now, the local government is committed to making lavender a powerful force in boosting regional economic development, and leaders hope it will take local tourism to new heights, local officials said.
haonan@chinadaily.com.cn
(China Daily 01/01/2013 page6)
Today's Top News
Editor's picks
Most Viewed