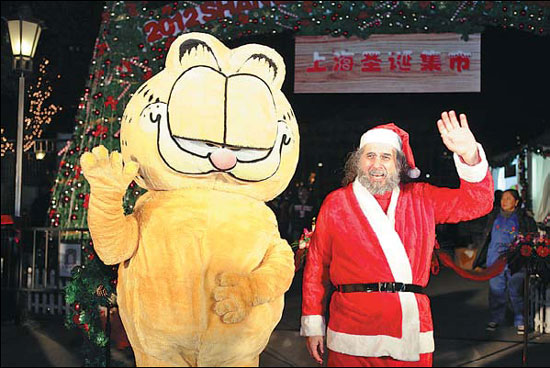 The first Christmas market in Xintiandi in downtown Shanghai. From Dec 19 to New Year's Day, the European-style Christmas market combines China's New Year festival with a traditional festive European bazaar. Provided to China Daily
"Christmas is coming and the geese are getting fat. Please put a penny in the old man's hat."
It's the opening two lines of a traditional Christmas ditty but in this instance it is symbolic of what's happening in the world: The old man is China and what he needs is more domestic consumption.
The good news at a time of year that celebrates the birth of Christ, also known as Jesus and the Messiah, is that China has latched on to this festive season as yet another way of luring customers into shops and opening wallets and purses.
Unfortunately for China, Fang Dun, an independent public relations specialist based in Shanghai, plans to upgrade her diving license in Hawaii this yuletide - and her New York-based banker husband will not accompany her. Some wives who like shopping would be grateful for that.
"It really does not matter if there is anyone going with me. I won't change my Christmas plans in any way," said the 29-year-old.
Shopping has top priority on Fang's schedule. She is a feverish follower of the latest fashion and buys all of Apple's latest products and accessories. Apart from spending two days buying daily cosmetics - enough for a year - she's chic-sensitive enough to buy two handbags, one designed by Alexander Wang and the other by Philip Lim. They show up on her Sina Weibo account in a way she finds most satisfactory.
The Chinese are probably the most welcomed customers among all retailers all over the world. French news agency Agence France-Presse reported that Chinese breakfasts are served in all landmark hotels in London and are well received. Harrods, the most prestigious department store in London, has prepared itself for the buying frenzy with 70 Mandarin-speaking shop assistants this year. It also has more than 100 Union Pay terminals directly connected to Chinese bank accounts.
Patricia Yates, director for strategy and communication at tourist promoter visitbritain, said to AFP the average Chinese visitor spends about three times as much - 1,600 pounds ($2,600) - as the average visitor to the United Kingdom.
"So they are very welcome by the retail industry at the moment because it has seen domestic demand soften," she said.
Compared with 120 pounds for every Briton, Chinese shoppers spent an average of 1,310 pounds during last year's Christmas sales, according to Jace Tyrrell, a spokesman for London's New West End Company, which represents the area's retailers.
Christmas in China
Back home, the Chinese are shopping on a scale during Christmas not seen in Western countries.
The country's first Christmas market was introduced in Xintiandi in downtown Shanghai in the shape of a theme park. Stretching from Dec 19 to New Year's Day, the European-style Christmas market combines China's New Year festival with a traditional festive European bazaar.
Distinctive German cabins studded with dark green pine populate the market, offering huge discounts before 4 pm on Dec 24, Christmas Eve. Traditional Christmas drinks such as mulled wine are also available. A 12-meter-tall fir tree decorated with colorful lights stands at the entrance to make it even more festive. Tailor-made postcards are also available so customers can send off greetings.
Finland is known as the home of Santa Claus so the Christmas market in Shanghai has a special house selling souvenirs from the Nordic country.
Children from Shanghai Children's Welfare Institute were invited to visit the Christmas market. On New Year's Eve, Dec 31, the market will hold a charity party titled "We are with you" for the old folk from The Elders' Apartment.
Enjoying a sumptuous Christmas dinner is now one of the must-dos for a large number of urban Chinese. A very popular high-end Italian restaurant called 8 1/2 Otto e Mezzo BOMBANA, on the Rockbund, a new commercial area downtown and home to luxury retail outlets and fine dinning restaurants, had tables for the first dining session, from 6 pm, fully booked as soon as its Christmas menu came out even though its five-course Christmas menu in the restaurant was priced at an eye-watering 988 yuan ($159) plus 10 percent service charge. If you wanted selected wines with that, you'd had to be prepared to cough up a hefty 1,688 yuan per head.
Puli Hotel and Spa, a luxury hotel located in the Jing'an district of central Shanghai, has prepared a special five-course dinner only available on Christmas Eve priced at 688 yuan a head, excluding service charge. A wine-pairing option is available for an additional 388 yuan.
"Since we only have a Western-style restaurant in the hotel, we rated the Christmas menu higher than others," said Stefie Ma, marketing communications manager of the hotel.
Burdigala, a cozy wine bar located in Jing'an district, posted a Christmas menu at 298 yuan per head. Franck Boudot, its owner, said more than 60 percent of the seats were booked.
Jimmy's Kitchen Shanghai, a popular restaurant among white-collar workers, has launched three special traditional European style menus for Christmas Day lunch priced at 488 yuan. Meals on Christmas Eve are 688 yuan and on New Year's Eve 788 yuan, excluding 15 percent service charge.
Decorating houses with Christmas ornaments is not just popular with expatriates in Shanghai. Liang Jinghua, 58, a retired anesthetist, has decorated her home with everything appropriate she can think of for the past five yuletides.
Her crockery has a Christmas theme at this time of year and she puts out pine boughs, pine cones, bells, ribbons, seasonal plants at 140 yuan each and has a green and red tablecloth. She also planted a real cedar in her garden as a Christmas tree. Every item is of good quality and costly.
However, Wang Yang, founder of her own design brand YAANG, said sales of Christmas-related products were selling much worse than expected.
"We have imported special candelabra, calendars and small glass ornaments to hang on Christmas trees but, to tell the truth, they are not well received, even during sales," she said.
"Chinese customers take it for granted they can pay less than 10 yuan for a small Christmas ornament thanks to the rapid development of the crafts market in Yiwu and other places. They think a 50-plus yuan ornament is way beyond acceptance. There is still a lack of tradition or culture for this extremely Western festival," she said.
To her Christmas is another opportunity for Chinese retailers to solicit more customers.
"Christmas is super busy in most Chinese cosmopolitan cities," she said.
It is certainly true at Chujian Flower Shop in Guangzhou. Gu Yidan, its founder, said many customers check the price of Christmas wreaths but few order one.
"Sales during Chinese Valentine's Day are way much better. It is still a Western festival after all," she said.
Contact the reporters at shijing@chinadaily.com.cn and lixinzhu@chinadaily.com.cn
(China Daily 12/24/2012 page13)