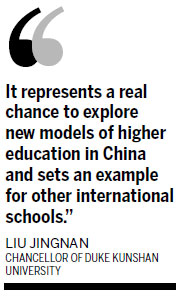 A Sino-US cooperative higher education institute will be established in Kunshan, Jiangsu province, local authorities announced on Wednesday.
Duke Kunshan University, approved by the Ministry of Education earlier this year, will be established by Duke University in Durham, North Carolina, Kunshan and Wuhan University in Hubei province.
The university will recruit students from China and abroad.