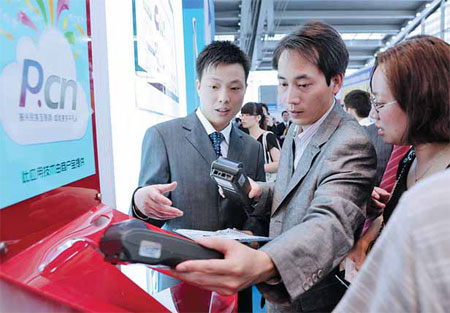 Mobile payment technology displayed at an international telecommunications exhibition in Shenzhen, Guangdong province. Innovation Works is focusing on the IT, software and mobile segments. Its founder Kai-Fu Lee said most mistakes are made in first 12 to 18 months in business. Yu Ge / for China Daily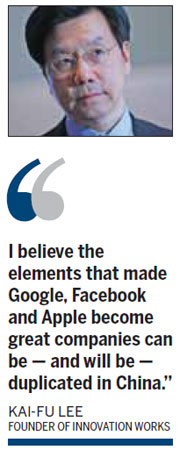 Tech guru helps young entrepreneurs get started up, develop businesses and list
If asked for three words to describe himself, Kai-Fu Lee, a high-profile information technology professional and former head of Google China, says they would be: "Make a difference".
He certainly lives up to the motto. The 51-year-old has made a difference in terms of not only his career development but also his devotion to, and influence on, young people in China.
Born in Taiwan in 1961, Lee was the youngest child in his family and was sent to the United States to be educated at the age of 12. After getting a PhD degree in computer science at Carnegie Mellon University in 1988, his career progressed smoothly through a series of globally leading IT companies.
New career
Lee worked at Apple Inc from 1990 to 1996, where he started as a research and development executive.
The talented individual then moved to Silicon Graphics Inc, a global high-performance computing solutions provider, and spent a year as a senior executive.
At Microsoft Corp, he founded the company's research facility in China, and helped Bill Gates deal with problems the company experienced in China. He also set up the Chinese business side for Google Inc, introducing the search engine to the nation.
However, after decades of success in leading multinational companies, Lee decided to start up his own business - Innovation Works - in 2009. It's a company that acts as an incubator for entrepreneurial young Chinese people with innovative business ideas to initiate startups.
According to Lee, when he was heading Google China, he saw a lot of people who worked for him leave and start their own companies with passion and determination. Some succeeded, some failed. Lee then decided he would like to use his experience and social network to give people - not just former Google employees - the backing to start new companies.
"I think I can. I believe the elements that made Google, Facebook and Apple become great companies can be - and will be - duplicated in China," said Lee.
What Innovation Works does is to find promising entrepreneurs early and provide them with all-round support, including recruiting people, product manufacturing, management, and financial and legal consultancy.
Lee's company usually helps young entrepreneurs in their first 12 to 18 months in business. "That's when most mistakes are made. That's when people have the chance to succeed. If you make one mistake, everything can fall apart," he said.
With initial funding of $500 million, Innovation Works focuses on the IT, software and mobile segments. It has made 50 investments over the past three years. The majority have so far survived and 18 of them have received a second round of funding averaging around $30 million. "But these companies still have a long way to go before they can go public," said Lee.
He added that of the hundreds of companies Innovation Works has invested in, so long as one becomes an Internet giant in 10 years, the investment return will be considerable.
Two years ago, Jiang Fan, a 25-year-old engineer, decided to leave Google and set up his own company - Umeng Co Ltd - to provide services for mobile Internet application developers. Jiang described his business plan to Lee and immediately received support.
"He had never done anything other than engineering. He is a great engineer but has no business experience, so we first had to mentor him to be a good manager," said Lee, adding that he felt Jiang has good business sense.
Just 28 months later, Jiang's company has grown from only one person - himself - to almost 100 people and become the leader in the niche market. The company received another round of funds of $10 million from venture capital firm Matrix Partners in 2011. Lee estimated that Umeng will be profitable by the end of this year.
"Without help from Lee, companies like us at the early stage may not survive and develop the business so well," Jiang said. "More importantly, Lee has made 'angel' investments more widely recognized in China. As a result more rich people and successful businessmen are joining in the trend."
Angel investors are wealthy people who help entrepreneurs they believe in to start businesses by funding them.
Xu Xiaoping, founder of the venture capital fund Zhen Fund and Lee's friend, said: "Lee feels a strong social responsibility to help both young Chinese people and companies to list in the US market."
Promising sectors
According to Lee, over the next five years, mobile Internet companies will come to prominence. "Today, you think of Baidu, Alibaba and Tencent as three giants. I predict that in five years there will be two or three other mobile Internet companies at the same level of power and value as these companies," said Lee.
He specifically cited entertainment such as music, video, gaming, social networking and e-reading as aspects of the market young people are mostly interested in and that are most promising.
The value of the Chinese mobile Internet market totaled 14.8 billion yuan ($2.38 billion) in the third quarter of 2012, up 102.1 percent year-on-year, data from iResearch Consulting Group shows.
Lee also said he is personally keeping a close eye on digital television, enterprises selling software to corporate clients and big data businesses.
Against short sellers
Chinese software company Qihoo 360 Technology Co Ltd in August initiated legal action against Citron Research and its main contributor Andrew Left for the short seller's "untruthful publications or statements regarding Qihoo 360", the New York-listed company said in a statement.
Citron is blamed for affecting the share prices of 21 New York-listed Chinese companies since 2006, with 16 companies seeing their prices drop more than 80 percent, and seven being forced to delist. Qihoo was among those that suffered a fall in the value of their shares. Lee said he has also filed a lawsuit against Citron for alleged defamation, which will be held in Beijing.
The spat came after Lee rounded up more than 60 top Chinese technology executives to defend US-listed Chinese companies from being hit by short sellers in a joint letter in September.
In one of the alleged mistakes in the piece of analysis that Lee pointed out, a Chinese search engine is described as using a new search method that is simply illogical and that does not exist.
Lee said the "intentional" behavior of Citron has had several dangerous outcomes, including misleading US investors, damaging their confidence in Chinese companies and causing Chinese companies' stock prices to fall when they are "completely innocent".
Furthermore, the Chinese companies that were listed in the US market may choose to turn private and relist in Hong Kong or elsewhere while those waiting to list may defer that move.
"So all these could end up with the result that US stock exchanges, which could be perfect stock exchanges, may no longer have Chinese stocks," Lee said, adding that he wanted to help US investors understand Citron and Muddy Waters, another short seller of stocks in Chinese companies, "are not to be trusted", that warning signals need to be sent to short sellers so they can "no longer fool people".
Lee said his action also gives the signal to Chinese companies that if a company is unfairly treated it should react immediately, especially by using the legal system to protect itself. Spending money for this purpose is worthwhile.
The most crucial thing is to have truthful and authentic financial data, said Lee. Chinese companies should have strong public relations with the media and attach importance to investor relations.
Citron has admitted some mistakes. "It's just a step and they might be more careful in the future because they know they are being watched by Chinese companies," said Lee. "Hopefully it could help Chinese companies regain the confidence to defend themselves."
caixiao@chinadaily.com.cn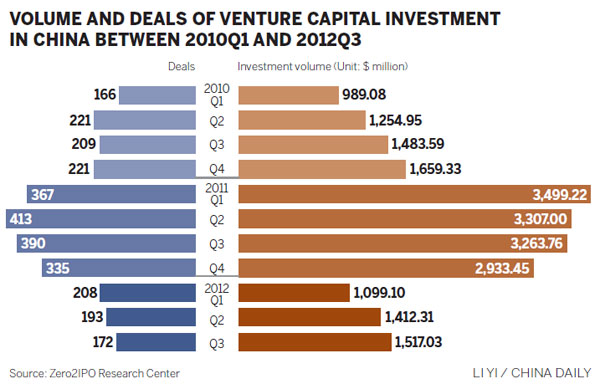 (China Daily 12/13/2012 page15)