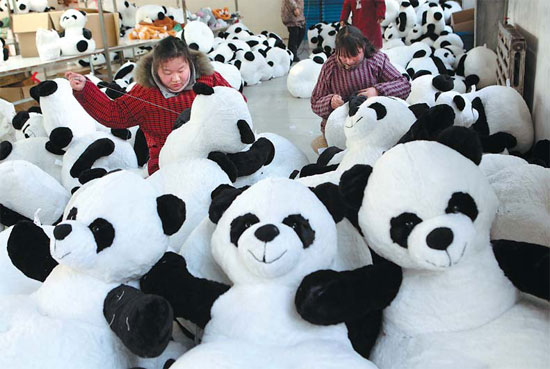 Toy pandas being made for export at a factory in Ganyu, Jiangsu province, on Monday. The General Administration of Customs said China's export growth in November slowed to 2.9 percent year-on-year, compared with an 11.6 percent surge in October. Si Wei / For China Daily
Trade figures cast shadow on nascent recovery occurring in China's economy
China's exports in November rose at a much weaker-than-expected pace while imports remained unchanged compared with a year earlier, casting a shadow over the country's economic rebound, industrial production and retail sales figures suggested on Sunday.
Export growth in November slowed sharply to 2.9 percent year-on-year, compared with an 11.6 percent surge in October, while imports were flat compared with a year earlier, according to data from the General Administration of Customs on Monday.
Foreign trade expanded by 1.5 percent year-on-year in November, showing a trade surplus of $19.63 billion.
Economists said November's weak export performance and flat import data showed the unsteadiness of the recovery of the world's second-largest economy, which may prompt the new leadership to put more emphasis on boosting domestic demand to ensure sustainable growth.
"The export slowdown was rooted in the uncertainties of external markets, including the debt-troubled European Union and the United States sliding toward a 'fiscal cliff'," said Wang Jun, an expert with the China Center for International Economic Exchanges.
China's trade with the EU, the country's biggest trade partner, dropped by 4.1 percent year-on-year in the January-to-November period, compared with a 3 percent decline in the first 10 months.
Trade with the US, China's second-largest trade partner, rose by 8.2 percent in the same period, slower than the 9.1 percent increase in the first 10 months. The first 11 months saw China-Japan trade decelerate by 2.9 percent year-on-year from a 2.1 percent drop in the first 10 months.
China's foreign trade during the January-to-November period expanded by 5.8 percent from a year earlier as exports increased by 7.3 percent and imports by 4.1 percent, yielding a trade surplus of $199.54 billion, the customs said.
The whole year of 2012 will see China's trade grow by 6 or 7 percent while the trade surplus will be between $220 billion and $230 billion, Wang said.
The government has targeted growth of 10 percent for foreign trade this year, a figure that officials have admitted will be hard to achieve.
Chen Hufei, a researcher at Bank of Communications Co Ltd, agreed, saying that the trade surplus this year will "significantly expand compared from a year earlier, and renminbi appreciation will be further pressed in the short term".
Wang said renminbi appreciation in November has eroded the competitive edge of Chinese exporters.
"It had been a tough year for all manufacturers that rely on exports, which have made much fewer orders with the decline in demand," said Zhang Beilei, owner of Wenzhou Gaotian Shoe Co Ltd.
The frequent depreciation of the dollar has driven down profits over the last month, as the company normally negotiates and changes the prices of orders with clients quarterly.
"Textile-export trading companies have been destroyed with the worsening economies in European countries, and we are struggling with a small number of clients making nearly zero profit in the past year," said Ye Fang, the manager of Michele Clothes Co Ltd.
The company expects negative growth in earnings for the past year and demands from European countries to continue to gradually decline.
Ye said she planned to shut down the company next year if the situation gets worse because she cannot afford to lose more money.
Chen from the Bank of Communications expects to see improved export conditions in 2013, while Wang warned that a 10 percent trade growth goal for 2013 will be very difficult to attain because of uncertainties in developed markets. Also, foreign trade can no longer be the driving force of China's economic growth, Wang said.
He said the foundation for an economic recovery is not steady, and the government needs to expand domestic demand with measures including structural tax reductions.
"Properly expanding budget deficits, along with enlarging bond sizes issued by local governments and extending the pilot project to replace the business tax for the services industry with a value-added tax, will be necessary for driving up economic growth in 2013," Chen said.
Arousing the vitality of private investment, which will lead to an inherent economic recovery rather than the current revival mainly driven by government-led investment, is even more important, Wang Jun said
Zhang Zhiwei and Wendy Chen, economists at Nomura Securities Co Ltd in Hong Kong, said in a research note that despite the slowdown in November's trade data, "we maintain our view that the economic recovery in China is on track as it is mostly driven by domestic demand".
"Infrastructure and housing investment will likely strengthen further in the coming months as the monetary policy remains loose. We continue to expect GDP growth to rebound sharply in Q4 to 8.4 percent from 7.4 percent in Q3," he said.
China's industrial output rose 10.1 percent in November from a year earlier, and retail sales climbed 14.9 percent, the fastest pace for both since March, according to data from the National Bureau of Statistics on Sunday.
Contact the writers at lijiabao@chinadaily.com.cn and yuran@chinadaily.com.cn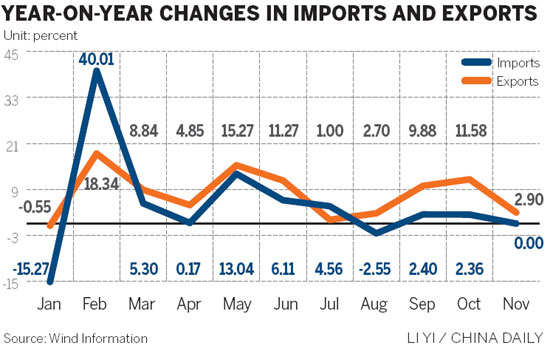 (China Daily 12/11/2012 page13)