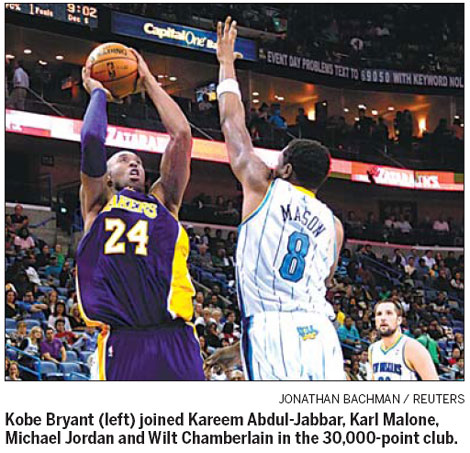 Los Angeles Lakers shooting guard Kobe Bryant become the youngest player to score 30,000 NBA career points during his team's 103-87 road win against the New Orleans Hornets on Wednesday.
Needing 13 more points to hit that mark before the start of the game, Bryant scored his 13th and 14th points on a short floating jumper with just more than a minute remaining before halftime.
At the age of 34, the 14-time All-Star the fifth player to reach the milestone, following Hall of Famers Kareem Abdul-Jabbar (38,387), Karl Malone (36,928), Michael Jordan (32,292) and Wilt Chamberlain (31,419).