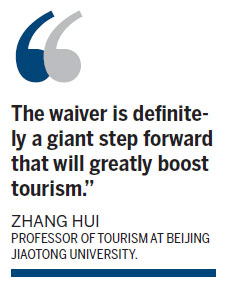 The decision to waive visas for foreign visitors for 72 hours is a major step toward Beijing's goal of becoming an open international city, tourism experts said.
The capital announced on Wednesday that, from Jan 1, visitors from 45 countries will be allowed a three-day stay without a visa.
The program, of particular benefit to transit passengers and business people, will make the city more accessible and allow tourism to be a strategic pillar of the economy, the Beijing Tourism Development Committee said.