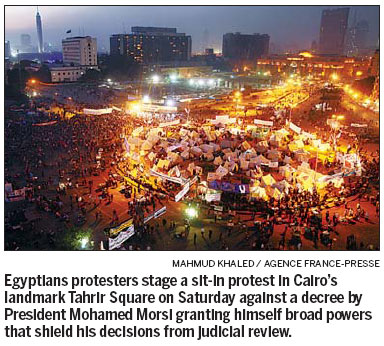 Egypt's President Mohamed Morsi called a Dec 15 referendum on a new constitution, hoping to end protests over a decree expanding his powers, as at least 200,000 of his Islamist supporters rallied in Cairo on Saturday.
Approval of the constitution drafted by an assembly stacked with Morsi's Islamist allies will override the Nov 22 decree that temporarily shielded Morsi from judicial oversight and triggered statements of concern from Western governments.
The decree plunged Egypt into its worst crisis since Morsi won office in a June election and sparked countrywide protests and violence in which two people have been killed and hundreds injured. This hit an economy just showing signs of recovery.