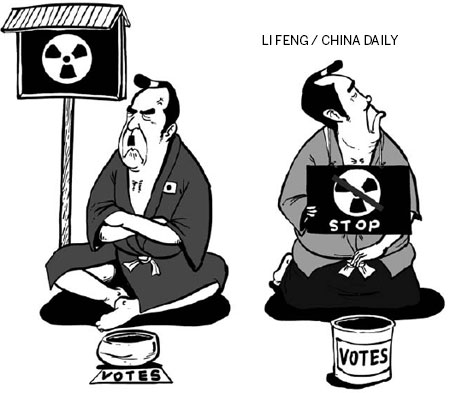 Energy is indispensable when it comes to powering human civilization, and economic and social development. It is also a strategic resource for a country's economy, defense and security. No wonder, countries across the world have been trying to figure out how to ensure a stable and continuous supply of energy.
To avoid energy risks and create an "energy security" platform, Japan has made "nuclear power generation" a priority. But the nuclear attacks on Hiroshima and Nagasaki in 1945 and the tsunami-induced accident at the Fukushima Daiichi nuclear power plant in 2011 have left Japanese people with mixed feelings on fulfilling their energy needs and the risks that come with it.
The ambivalence over nuclear power is embedded in Japanese society. On Nov 16, after Japanese Prime Minister Yoshihiko Noda announced the dissolution of the House of Representatives, the "nuclear issue" has become an important issue for the forthcoming general election.