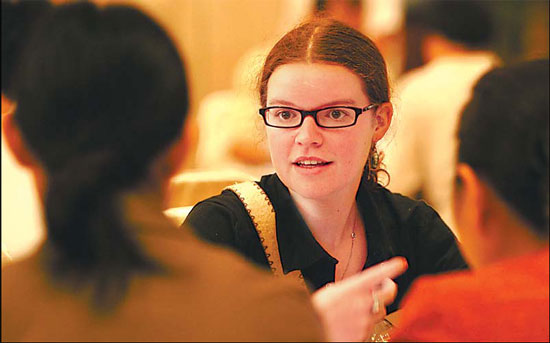 A British woman talking with a Chinese company's human resource officers at a talent fair in Nanjing, capital city of East China's Jiangsu province. A trend of talented foreigners joining Chinese companies is just beginning, analysts said. The vigorous Chinese economy, coupled with overseas expansion of many Chinese businesses, is creating many opportunities for skilled people worldwide. Mai Dou / For China Daily
Increasing number of opportunities emerging as firms expand abroad
More foreigners are employed by or showed a stronger interest in working for China-based companies against a backdrop of the rise of the country's economy and the global expansion of many Chinese firms.
Huawei Technologies Co, the world's second largest telecoms equipment maker by revenue, surprised people last year by inviting John Suffolk, former UK government chief information officer, to act as its global cyber security officer.
Suffolk is one of the most influential foreigners to work with a Chinese company. He works at Huawei's headquarters in Shenzhen, a coastal city in South China's Guangdong province, and reports directly to Huawei's chief executive officer, Ren Zhengfei.
After Suffolk joined Huawei, Omar Khan, former chief product and technology officer of Samsung Mobile, was appointed co-chief executive officer of Beijing-based NetQin Mobile Inc, a mobile security software provider.
Khan was dubbed "the Godfather of Galaxy" after launching perhaps one of the best series of smartphones the Android mobile system has seen yet - the Samsung Galaxy S line.
The trend of more talented foreigners joining Chinese companies is just beginning, analysts said. Yang Haifeng, a telecoms expert who is also chief editor of Communications World Weekly, said the vigorous Chinese economy, coupled with overseas expansion of many Chinese businesses, would create many opportunities for skilled people worldwide.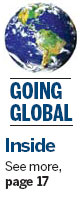 "Chinese companies can provide them (expatriates) with promising prospects, good experience and, of course, generous salaries," said Yang.
Duncan Clark, chairman of BDA China, a consultancy company that follows China's IT industry, said some companies in China are beginning to "transcend their Chinese-ness".
"In companies, I think we are almost beyond the 'them and us' of foreigners and Chinese. Once a company is founded by entrepreneurs, it doesn't really matter where the founders are from. We are entering the age of the 'multinational startup'," Clark said in an email sent to China Daily.
This new breed of company is far more attractive to expatriates to work for than the traditional Chinese company, he added.
ZTE Corp, the world's fifth telecoms equipment vendor, earns more than half of its revenue from overseas markets. In some developed countries, such as in the United States, about half of ZTE's management team are expatriates, according to Dai Shu, director of corporate branding and communications at ZTE.
Dai said ZTE provides an equal playing field when it comes to promoting talented people. "Sometimes, foreigners have more advantages than Chinese staff because we measure performance largely by the results they deliver," Dai said, pointing out that foreigners usually produce good results because they are culturally more close to clients.
Active moves
In addition to talented foreigners, Chinese companies are also very interested in taking people who have experience in foreign companies. Lenovo Group, China's largest PC maker, hired more than 40 laid-off employees from its mobile product rival Motorola Mobility Holdings Inc in October.
Motorola Mobility announced in August that it planned to cut about 4,000 jobs - or 20 percent of its labor force - with two-thirds of the losses outside the United States. China's mobile product team, including the company's flagship cellphone product V3 research and development group, was included.
Chen Wenhui vice-president of Lenovo and general manager of phone research and development, said once Lenovo heard the news, it went to Nanjing Motorola's R&D center immediately.
Former Motorola talent would improve Lenovo's overseas market research ability because Motorola had many long-serving staff with good overseas experience, Chen said.
When the search giant Google Inc said it was shutting down its search service Google.cn on the Chinese mainland in 2010, its Chinese competitors also seized the opportunity to hire the US company's best staff.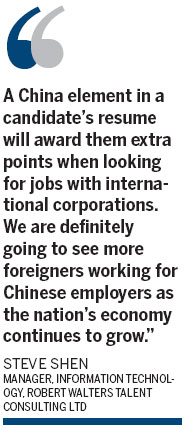 A number of Google's senior executives left the company amid rising speculation that Google may further withdraw from the Chinese mainland with its decision to redirect its mainland traffic to Hong Kong.
These included Zhu Huican, the inventor of Google's image search service, who went to Tencent Holdings Ltd as the chief architect of the company's search service, but later he left again, and Wang Jin, who has been working at Baidu Inc as vice-president of technology after he left Google as former deputy director of its engineering and research institute.
For Tencent Holdings Ltd, the biggest Internet company in China by sales, talent is talent, whether it is Chinese or foreign.
"Bringing in foreign talent is quite normal here," said Chen Shuanghua, assistant general manager of Tencent's human resources department, adding that it is not the nationality but ability that matters.
Quite a few of Tencent's employees used to work at major IT companies, including Microsoft Corp, Google Inc and Oracle Corp, he said.
Tencent hired Steve Gray, former executive producer at Electronic Arts Inc. Gray, who led the project for the Lord of the Rings franchise, used to be invited to give lectures at Tencent. After Gray and Tencent knew each other better, he was offered a job at Tencent in 2009 as an executive in charge of game production. Tencent is the biggest online game operator in China.
It's not just research and development that benefits from foreign talent. So does global business expansion. Chen said Tencent's WeChat, a hit messaging application on mobile devices, owes part of its success to the overseas marketing teams that hire local foreigners.
As part of its recruitment efforts, Tencent has taken a team to the top US universities, such as Harvard and Massachusetts Institute of Technology, every year since 2008 to recruit those with a masters in business administration. Chen said each time Tencent recruits about 10 people, most of whom will be deployed in the strategy and investment divisions.
By the end of this year, the company will have added 5,000 more people, boosting its total payroll to more than 20,000 employees, Chen said. About half of them are fresh graduates from Chinese universities, while the rest are experienced professionals.
Looking forward
Chinese companies are going to seek more international talented people as they embrace the global market. An increasing number of foreigners are considering working for Chinese companies because they believe the experience will add depth to their resumes, analysts said.
About 80 percent of the international talent in Chinese companies work in sales and marketing departments and are not based in China, according to Steve Shen, manager of information technology at Shanghai-based head-hunting company Robert Walters Talent Consulting Ltd.
Chinese companies need local talent to run their businesses in Europe and the United States because Chinese employees are not familiar with marketing procedures in the West and find it hard to explore the local markets.
Slowing economic growth in the West is also providing an opportunity for Chinese companies to lure talented foreigners and more candidates are expressing an interest in job offers from China, a country with three decades of constant economic growth, said Shen from Robert Walters.
The steady economic growth has also put Chinese enterprises in a good position to attract experienced people in the research and development sector.
Although only one in five of foreigners working for Chinese enterprises are R&D specialists, the amount is set to surge in the coming years because Chinese companies are planning to localize product designing and manufacturing in target markets, said Shen.
"China has a lack of experienced and skilled researchers and developers. International candidates with work experience are highly competitive in this area," added Shen.
In addition, as an increasing number of Chinese companies transform from outsourcing manufacturers into retailers directly targeting local customers, they need to build a local team strong enough to power the strategic shift. Locals are often the most suitable candidates.
However, ambitious overseas expansion plans pose a series of challenges to the Chinese headquarters. One of the most stubborn ones is how to manage enlarged overseas branches.
"The cultural difference is a big problem for most of the expatriates working in China and for Chinese companies and it may affect foreigners' careers in China," said Shen.
Chinese enterprises will also need to figure out how much administrative powers should be delegated to overseas directors and how to effectively manage the overseas offices.
Another reason that Chinese offers have become popular among overseas job seekers is because the experience will make their future job hunting easier. Foreign companies are more willing to give jobs to those who have worked in China or for Chinese companies because the second largest economy is appealing to many foreign enterprises as a place to do business.
More overseas workers value the experience of working in China more than their pay, according to Shen.
"A China element in a candidate's resume will award them extra points when looking for jobs with international corporations," said Shen. "We are definitely going to see more foreigners working for Chinese employers as the nation's economy continues to grow."
Contact the writers at shenjingting@chinadaily.com.cn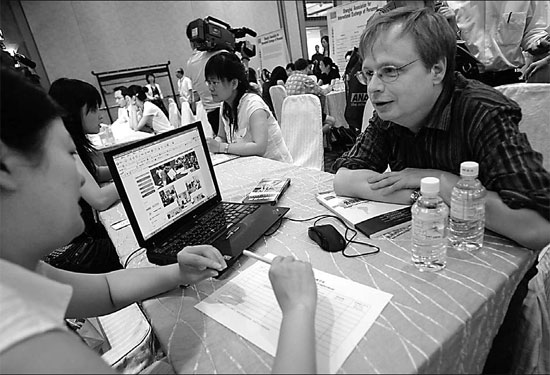 A senior expatriate discussing a compensation package with a Chinese company representative at a talent fair in East China's Jiangsu province. Yang Haifeng, a telecoms expert who is also chief editor of Communications World Weekly, said Chinese companies can provide expatriates with promising prospects, good experience and, of course, generous salaries. Mai Dou / For China Daily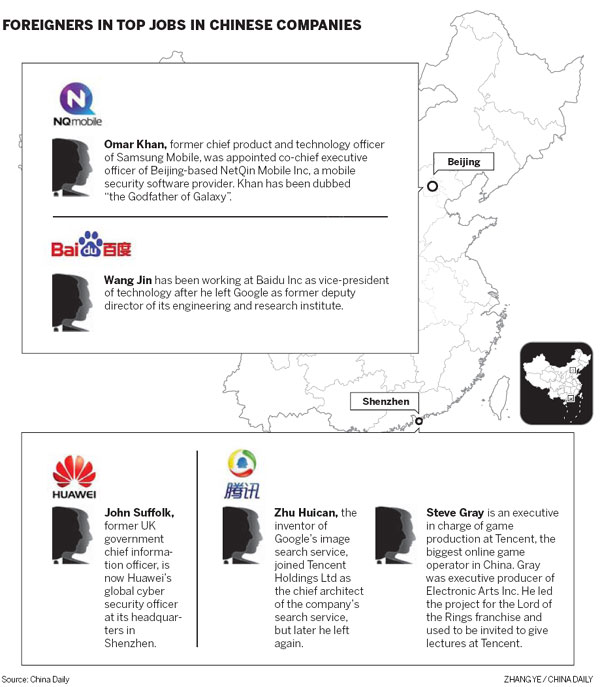 (China Daily 12/03/2012 page13)