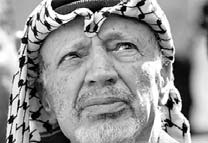 Aug 4, 1929: Birth of Arafat, whose full name was Mohammed Abdel-Rawf Arafat al-Qudwa al-Hussaini. Official accounts say he was born in Jerusalem, but biographers have established that it was in fact in Cairo.
1948: Arafat takes part in the war that breaks out shortly after the state of Israel is created. The young Arafat had already taken part in gun-running to Palestinian groups opposed to the creation of a Jewish state.
1959: After leaving Egypt for Kuwait, he founds the Fatah movement, along with Khalil al-Wazir, Faruq Khaddumi, Salah Khalaf and Mahmud Abbas. The latter is today president of the Palestinian Authority.