Sudan is seeking Chinese investment in its agricultural industry, aiming to turn the emerging sector into a new highlight of bilateral economic ties.
The African nation's business relations with China had previously been focused on the petroleum sector, but this is mainly concentrated in South Sudan, which seceded in July 2011.
Sudanese Agriculture and Irrigation Minister Abdul-Haleem Ismail Al-Mutaafi said: "Chinese investment in our agricultural industry is at an initial stage and the investment volume is small compared with its spending in the petroleum sector."
Speaking during an event in Beijing promoting agricultural investment in Sudan, he said the sector's prospects were "very bright" if the nation combined its land and resources with Chinese technology, management and financial support.
He added that the key task for Sudan is to enhance its agricultural output, and increase exports of cotton, meat, sugar and sesame to China.
"We would like Chinese investors to process raw materials in Sudan and to increase its added value in the country," he added.
Hashim Hago Ibrahim, president and director-general of Sudanese cotton exporter El-Dali and El-Mazmoum National Co, said that the current level of cooperation between Sudan and China in agricultural services and technology is insufficient to meet the demand from both sides.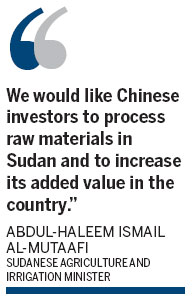 Sudan is the third-largest country by area in Africa and has long been regarded as the granary of the continent.
Liu Jian, counselor of the State Council, said that there were "unprecedented" opportunities for Chinese investors in Sudan thanks to the long-standing friendship between the two nations, Sudan's rich agricultural resources, and the development of agri-industries in China in recent years.
"We are now establishing an inter-ministerial mechanism, including the Ministry of Agriculture, the Ministry of Commerce and domestic financial institutions, to boost agricultural cooperation between China and Sudan," said Qu Sixi, director of the International Cooperation Department of the Ministry of Agriculture.
Mohammed Hassan Jubara, undersecretary of the Sudanese Ministry of Agriculture and Irrigation, said that he hoped to see more joint ventures to be established in the China-Sudan Development Zone being planned in the country's capital Khartoum.
Jubara said that the land supply for the zone would be doubled to 10,000 hectares to boost the milk and agricultural product processing businesses.
"The model of contract farming has been successful and can be expanded to involve more Chinese companies," Jubara added.
"In addition, we can further exploit our surface water resources. Joint projects in the sugar industry and oil-bearing plants are promising as we can export the products, such as sesame, to China and other East Asian countries," he added.
Jubara said that the global population will reach 9 billion by 2015 with Asia, especially China, undergoing urbanization. As a result, increasing demand for agricultural products will challenge global food security.
"Sudan's promotion of its agricultural industry is somewhat related to the secession of South Sudan, which had 90 percent of the oil resources," said Wu Fang, a researcher at the Chinese Academy of International Trade and Economic Cooperation under the Ministry of Commerce.
She added that China needs "a comprehensive plan for agricultural cooperation with Sudan which includes aid, investment and technological parks".
Despite the bright prospects, Zhou Xin, deputy general manager of China Shandong International Economic & Technical Cooperation Group Ltd, called for more support from the Sudanese government and the implementation of favorable policies.
lijiabao@chinadaily.com.cn
(China Daily 11/24/2012 page9)