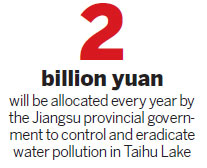 The water quality of Taihu Lake, the country's third-largest freshwater lake, has been greatly improved due to the introduction of sewage disposal facilities in rural areas, environmental protection authorities said.
Since 2007, the Jiangsu provincial government has installed more than 3,580 facilities, many using technology from countries such as Germany and the United States, in villages around the lake.
"About 500,000 families have benefited," said Liu Zhaoyang, an engineer at the General Office of Taihu Lake Water Pollution Prevention and Control. "The facilities have also reduced discharges into the lake."