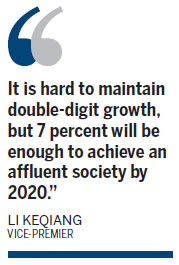 Vice-Premier Li Keqiang stressed the role of reform in China's social and economic development on Thursday, calling for pioneering measures and a bigger role for the market amid medium-speed growth in the long term.
"Reform is still the biggest bonus for China," said the vice-premier at a State Council working conference, after hearing reports from top officials from China's 11 pioneering provinces of reform.
"We have benefited from reform in the past 30 years. ... We have to march on as there is no way back," Li told the participants of the conference.