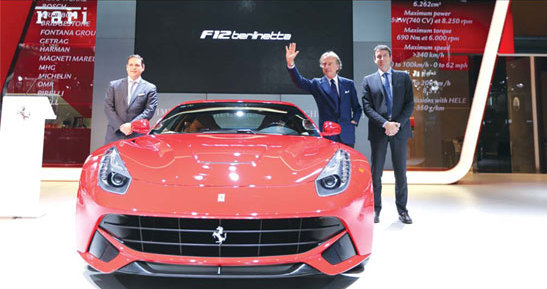 Ferrari's Chairman Luca di Montezemolo (center), Senior Vice-President of Commercial and Marketing Galliera Enrico (right) and Greater China CEO Edwin Fenech open the Ferrari Grand Festival yesterday at the Guangzhou Auto Show. Photos provided to China Daily
Chairman Montezemolo attending anniversary celebration in Guangzhou
This year marks the 20th anniversary of the first Ferrari officially imported into China.
In 1992, a red Ferrari 348 TS was delivered to Beijing, marking the beginning of the sports car icon's unprecedented journey to promote racing culture in the world's largest potential market.
The effort paid off as China became the second-largest market for Ferrari worldwide in 2011. Its nationwide dealer network now reaches more than 20 cities.
After a series of celebrations held throughout the year across the country, the grand finale of "Ferrari 20 Years in China" was held yesterday in Guangzhou, one of its key markets.
To commemorate the milestone and reinforce its ongoing commitment to the Chinese market, Luca di Montezemolo, chairman of Ferrari, along with Ferrari Greater China CEO Edwin Fenech were on hand for the Ferrari festival.
The finale kicked off at the Guangzhou international auto show, which opened on the same day.
Under the spotlight of hundreds of media, its new flagship F12berlinetta's made its first public appearance in South China. It is the most powerful high-performance V12 road car ever built by Ferrari.
In line with the philosophy of 'different Ferraris for different Ferraristi', the complete range of new-generation models was also showcased.
Ferrari Chairman Montezemolo expressed his appreciation of the brand's development and achievements in China.
"Twenty years in China is just a beginning, but I am delighted with what we have achieved here," he said. "I'd like to thank everyone who has shared their passion and dreams with us. With all the support we have, I strongly believe that Ferrari will continue to grow together with China."

The one-day celebration continued with a Ferrari city parade. More than 130 Ferraris from all across China cruised over a route that passed many landmark sites in Guangzhou. A number of classic models joined the parade including the Dino, Daytona and Daytona Spider, 275 GTB, 288 GTO and 365 GTC.
The parade stopped at Haixinsha Stadium that hosted the 2010 Guangzhou Asian Games.
Thousands of Ferrari fans, VIP guests and spectators gathered together to enjoy spectacular performances highlighted by a Ferrari 458 Challenge demonstration by Gianmaria Bruni, former F1 driver and winner of the World Endurance Championship.
The celebration reached its climax when the landmark Canton Tower was illuminated in red to honor the brand.
Racing culture
As an icon in the super sports car segment, Ferrari not only enjoys commercial success, but also shares racing culture with fans worldwide.
Ferrari is the only constructor to have competed in every single edition of the World Driver's Championship - or Formula 1 - since its creation in 1950.
In 2004, when the Grand Prix was first held in Shanghai, Ferrari's driver Barrichello made history by wining the championship title for Ferrari in the first F1 GP race in China.
Short after Ferrari's first triumph in China, the company opened its renowned Ferrari Corso Pilota driving course in the country in 2005, providing comprehensive driving skills for owners.
In 2011, Ferrari brought the Ferrari APAC Challenge Trofeo Pirelli to China for the first time. As one of the most popular one-make series, this racing event offered Chinese fans a better idea and closer experience about the racing culture from Ferrari besides Formula 1.
Even though Ferrari only sells a very limited number of cars worldwide each year, it is fully committed to environmental sustainability through a range of efforts including product development for stronger performance yet lower energy consumption and CO2 emissions, building cars with clean energy and participating in community programs.
This year, Ferrari China joined in an important project with Dr Jane Goodall, world-renowned anthropologist and UN Messenger of Peace, on the Million Tree Project in China. It donated 67,379 trees to offset carbon emissions and helped the project reach its goal two years in advance.
zhuanti@chinadaily.com.cn
(China Daily 11/23/2012 page13)