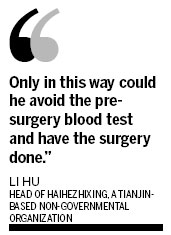 China's top AIDS specialist has urged tougher punishments for hospitals caught denying treatment to HIV/AIDS patients.
"HIV discrimination at hospitals might cost lives and is groundless. So far, no medics have contracted the virus after performing medical treatment, including operations for people with HIV/AIDS," said Wu Zunyou, director of the National Center for AIDS and Sexually Transmitted Diseases Control and Prevention, which is under the Chinese Center for Disease Control and Prevention.
Wu made the comments to China Daily on Wednesday in response to a recent medical scandal involving HIV/AIDS discrimination at medical facilities.