What's news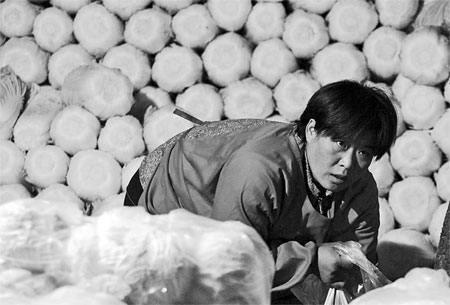 Market forces
A woman sorts a shipment of Chinese cabbage and waits for buyers on Sunday at a vegetable wholesale market in Weifang, Shandong province. The harvest for vegetables in Beijing and Hebei and Shandong provinces was good this year, but crops' prices have fallen sharply and many growers have been unable to recover their costs. Photo by Zhang Chi / for China Daily
Companies awarded for service innovation
Ten Chinese companies received awards on Sunday for service innovation as the country promotes the services sector amid efforts to restructure economic growth. Haier Group, Alibaba Group Holding Ltd and Sany Heavy Industries Co Ltd were among the recipients, according to a release on the third survey of satisfaction in the services sector organized by Economy, a magazine affiliated with Economic Daily. "Satisfaction is a key factor for the healthy development of the services sector," said Bao Yujun, a researcher with the Counselors' Office of the State Council.
IPhone5 available for pre-order in China
Chinese customers will be able to pre-order the iPhone 5, Apple's latest smartphone, from Tuesday. The phone was released in the United States on Sept 14. According to the Beijing Times, China Telecom - Apple's official partner - will open reservations for the device on Tuesday. Adverts for the phone are already being shown on China Telecom's website. Apple did not place the Chinese mainland on the list of the initial group of countries able to sell the product immediately after its launch, but CEO Tim Cook said the company will introduce the phone to China in December.
ZTE sells stake in Changfei Investment
Telecoms equipment maker ZTE Corp on Friday sold an 81 percent stake in an investment subsidiary for 1.3 billion yuan ($207.8 million), in an attempt to relieve financial pressure and support its core business development. In a filing with the Hong Kong Stock Exchange, ZTE said it will sell a 30 percent stake in Shenzhen Changfei Investment to CCBI (Shenzhen) for about 480 million yuan. ZTE also agreed to sell a 51 percent stake in Changfei Investment to Guangdong All Access for 816 million yuan.
$11.8b worth of deals signed at Zhuhai air show
Thirty contracts worth a total of $11.8 billion were signed, with 202 aircraft sold, during the 9th China International Aviation and Aerospace Exhibition, held from Nov 13 to Sunday in Zhuhai, Guangdong province. The total amount is the highest recorded for the past eight Zhuhai air shows. Nearly 650 exhibitors from 39 countries and regions attended the show, which attracted 338,000 visitors, Xinhua reported on Monday.
First, business class only on two Hainan Airlines jets
Hainan Airlines Co is to fit two Airbus 330 aircraft solely with business and first class cabins to fly the route between Beijing and Shenzhen, the carrier said on Monday. The first flight will be on Dec 1. Each aircraft will have 34 seats in first class and 82 in business class. Hainan Airlines is the fifth carrier in the world to run such a service, and the first in China. The market for business class passengers on the route between Beijing and Shenzhen has great potential, as both cities are business hubs in China, industry insiders said.
Thermo Fisher sales in China on the rise
Thermo Fisher Scientific Inc's sales of air quality monitoring products in the Chinese market have been growing, and account for 25 to 30 percent of the company's global sales, said Marc Casper, company president and chief executive officer. The company - one of the world's largest manufacturers of scientific instruments - is a major supplier of equipment to monitor PM 2.5 levels in China, and Casper said it has a market share of 80 to 90 percent in China. PM 2.5 refers to fine airborne particles below 2.5 micrometers that are considered extremely hazardous to health as they go deeper into the lungs than larger particles.
Dongfeng Motor sets up German joint venture
Dongfeng Motor Co Ltd plans to set up a joint venture with Germany-based Schmitz Cargobull AG to produce semi-trailers, with an investment of 600 million yuan ($96.12 million). The two sides signed a strategic contract on Friday in Wuhan. The new joint venture, Dongfeng Smith Special Vehicles Co Ltd, will be committed to research and development, production and sales of semi-trailers. It will be based in the Wuhan Economic and Technology Development Zone. The two companies share 50 percent of the equity in the project.
Camerich flagship store opens in Cologne
Chinese high-end furniture company Camerich has opened a flagship store in Cologne, Germany, taking the number of its overseas outlets to 43. With an area of 630 square meters, the store is in Hohenstaufenring street, one of the best known furniture commercial areas in the world. Camerich already has outlets in London and Brussels in Europe and stores in North America, Australia and Southeast Asia. It plans to open 200 overseas specialty stores by the end of 2016.
Bosideng triumphs at UK business awards
Bosideng International Holdings Ltd, a leading Chinese men's fashion retailer, won the Chinese Investor of the Year Award at the 2012 British Business Awards. It is the first time a Chinese clothing company has won the award. Bosideng is the first Chinese clothing retailer to set up a flagship store outside the Chinese mainland, opening its multimillion-dollar development just off Oxford Street in central London in July.
HSBC in talks to sell $9.3b Ping An stake
HSBC says it is in talks to sell a $9.3 billion stake in the Hong Kong-listed Ping An Insurance (Group) Company of China Ltd, according to an announcement to the Hong Kong Stock Exchange on Monday. HSBC spent $1.7 billion to build up a 15.6 percent stake in Ping An, China's second-largest insurer, in 2002 and 2005. Since the beginning of 2011, HSBC has announced more than 40 disposals and closures ahead of shedding non-core parts of its business. Analysts said the bank has been trying to boost its profitability by disposing of its non-core business in an attempt to recover from the 2008 global financial crisis.
Rongsheng looking to new offshore unit for orders
China Rongsheng Heavy Industries Group Holdings Ltd says a new offshore-energy equipment unit may generate 50 percent of its orders over the next five years amid slumping demand for ships. "There is a need to shift our focus to the offshore and marine business," Sean Wang, chief financial officer said on Monday. The shipbuilder, China's largest outside State control, announced the formation of a new offshore unit last month as it seeks contracts for oil rigs and tender barges.
Economist calls for growth of labor-intensive industries
To narrow the income gap and improve wealth distribution, China needs to develop an economy based on labor-intensive industries including agriculture, manufacturing and services, Justin Yifu Lin, a former World Bank chief economist, told the Financial Street Forum in Beijing on Sunday. By 2020, China's 2010 GDP and per capita income will double, according to a report President Hu Jintao delivered at the 18th National Congress of the Communist Party of China.
China Daily - Agencies
(China Daily 11/20/2012 page14)
Today's Top News
Editor's picks
Most Viewed