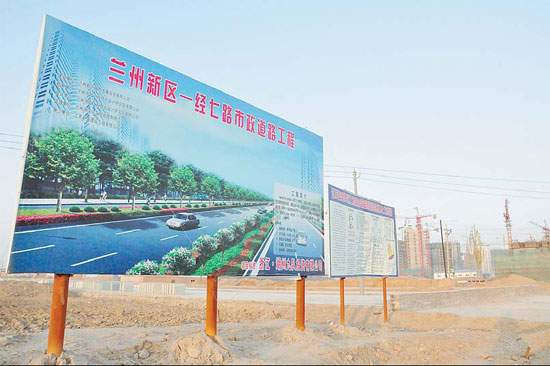 Standing in a construction site, a billboard advertises a trunk road blueprint for the Lanzhou New Zone in Northwest China. As China is striving to boost domestic demand to save the economy from recession, the zone, a newly approved State-level economic development area, is being constructed to become what local investors say will be "a golden opportunity that no one wants to miss". Gao Yuan / China Daily
Businesses take a gamble on new industrial center in NW China
It lies hidden in a bleak basin in Northwest China. Deep inside the Loess Plateau, famous for its sterile soil and strong winds, the place has no natural water resources and the per capita gross domestic product is well below the nation's average.
Yet despite this grim outlook, it has become the focus of many local people's dreams. They foresee it being transformed into the local equivalent of Pudong in Shanghai.
As China is striving to boost domestic demand to save the economy from recession, Lanzhou New Zone, a newly approved State-level economic development area, is being constructed to become what local investors say will be "a golden opportunity that no one wants to miss".
On Aug 20, the State Council approved plans to establish the nation's fifth State-level development zone in Lanzhou, the capital city of Northwest China's Gansu province. Previous approvals include the Pudong New Zone in Shanghai and Binhai New Zone in Tianjin. Both of those projects got the nod from central government in the 1990s.
Starting in 2010 Beijing speeded up its pace in approving State-level economic zones amid a national economic slowing down. It has endorsed four new zone projects since then, the latest being the Nansha New Zone in Guangzhou, which received approval on Sept 6, less than 20 days after Lanzhou New Zone received its State-level status.
Analysts say the Lanzhou New Zone project is part of the central government's urbanization drive to prop up the economy for the comparatively less-developed western provinces of Gansu and Qinghai, as well as Ningxia Hui and Xinjiang Uygur autonomous regions.
China has been trying to stimulate domestic consumption in a bid to boost the economy. The nation's GDP growth in the third quarter slowed to 7.4 percent after hitting a then three-year low of 7.6 percent in the second quarter, data from the National Bureau of Statistics showed.
An eye for growth
Lanzhou's GDP is poised to stay above 10 percent this year.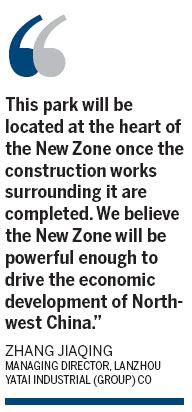 As of October, the New Zone had lured about 90 projects. The accumulated corporate investment has been more than 70 billion yuan ($11.2 billion), according to Yuan Zhanting, mayor of Lanzhou, the provincial capital city of Gansu.
In September, Yuan disclosed the municipal government is inviting China's top electronic appliance makers, including Haier Corp, TCL Corp and Konka Group Co to set up manufacturing facilities in an under-construction industrial park in the New Zone.
Currently the largest business operating in the zone is a plant run by Zhejiang Geely Holding Group, a Hangzhou-based carmaker. Geely set up the plant in 2006 when the zone was a city-level industrial park.
"Lanzhou's position as an industrial base in Northwest China will help the city to embrace manufacturing businesses from coastal regions," said Yuan.
Manufacturers in coastal regions are moving production lines to less-developed inland regions because of lower labor costs there, he added.
"The talent available in the provincial capital city will meet the demand of the New Zone. That's one of the reasons why we chose to establish our plant here," said Song Chengwan, project engineer of Sany Group Co.
The nation's leading heavy machinery manufacturer is building a concrete mixer manufacturing plant that will employ 700 people in the center of the zone.
The other reason the 530 million yuan project broke ground in Lanzhou was because of the go-west campaign adopted by the country's manufacturing industry, according to Song.
"The New Zone enjoys a great edge in transportation and will help us to deliver products to the neighboring provinces of Qinghai, Shaanxi and Sichuan, as well as Ningxia Hui, Inner Mongolia and Xinjiang Uygur autonomous regions."
However, unlike Pudong in Shanghai, which concentrates on the financial industry, and Binhai in Tianjin, which takes advantage of being the world's fourth largest port by throughput, Lanzhou New Zone lacks a natural selling point.
According to the plan, the New Zone is luring enterprises from virtually every industry. Companies in petrochemical, equipment manufacturing, new energy, information technology and biological medicines were all welcomed by the local government.
It is too early to think about profits for most of the companies that have already bought into or intend to settle in the New Zone. They have to build up their own businesses first.
Until now, the New Zone remains a gigantic construction site. The local government launched a massive building project to create the central district last year. The 800 square kilometer development zone will not be completed until 2030.
"Of course we are excited about the New Zone project," said Yan Yonghong, manager of the New Zone project at Gansu Construction Investment (Holdings) Ltd. "We have our best teams on the site so we could finish 44 high-rise residential buildings by next year."
The company is a major construction power in the New Zone. It is responsible for the construction of the residential buildings and a 960,000 square meter construction machinery base.
As one of the first builders in the New Zone, Yan's company will submit tenders for more projects as the basic infrastructure constructions in the zone are completed and the area becomes ready for more investment.
"You would not have wanted to visit the New Zone a year ago," said Ma Like of Gansu Construction. "It became a big muddy pool every time it rained."
No trace of the muddy pool can be found nowadays - at least in the center of the zone. The local government has built a nearly 80-kilometer asphalt road network, paving the way for the settlement of more large enterprises.
Plants for large corporations such as Sany, Geely and China Railway Construction Corp have all been connected with newly-completed eight-lane tarred roads.
The city authorities said on Oct 22 that they had invested 24.6 billion yuan in infrastructure such as power networks, the road grid and running water supply systems.
"We are definitely interested in getting involved in the New Zone project, because it goes with the two mega trends in China: urbanization and industrialization," said Guillaume Dourdin, vice-president of Veolia Water China, the Chinese arm of a France-based water service company.
According to Dourdin, Veolia is talking with the local government about a water supply contract with the New Zone. He declined to disclose details.
Veolia's joint venture with the municipal government provides running water for 2.5 million people in downtown Lanzhou.
Small businesses
Ma Tingzhong, a farmer and part-time carpenter, started doing woodwork on a construction site in the New Zone in September.
The father of three, living in Honggu county, roughly 80 kilometers west of the New Zone, will need to buy more seed for his land, pay tuition fees for his only son and prepare for his daughters' weddings after next year's Spring Festival. Finding a job after the autumn harvest was critical for the 40-year-old and his family.
The good news is that Ma's carpentry skills earn him more than 400 yuan a day - adequate for most of the projected expenses when he heads home in January.
Ma, along with his approximately 2,000 fellow workers, may have no idea why their employer - Lanzhou Yatai Industrial (Group) Co, a local real estate developer - was bold enough to invest 3 billion yuan to build a headquarters park on barren land covered by a thick layer of wind-blown silt. But, according to Zhang Jiaqing, managing director of the project, his company has every reason to do so.
"This park will be located at the heart of the New Zone once the construction works surrounding it are completed. We believe the New Zone will be powerful enough to drive the economic development of Northwest China," he said.
Companies such as China Eastern Airlines Co and some bio-pharmaceutical makers are set to move offices into the park as early as next year.
"We are sitting on a big goldmine," said Zhang.
Like Zhang, many entrepreneurs of small and medium-sized companies have found their way into the New Zone.
Wei Mingguang, 45, president and chief executive officer of a sunflower oil maker, is one of them. For his company, Gansu Joy Agriculture Tech Co, the zone is a perfect place to refine sunflower oil.
"Officials from the zone have promised me 50,000 tons of seeds. That should be a good start for my new plant," said Wei.
His refinery plant is off the tarred road grid so getting there is a little bumpy even in a sports utility vehicle. However, Wei is extremely satisfied with the spot.
"I would not get 0.4 square kilometers of land if the plant was in the center area. More land means I will have more room for development," Wei said. He started the company more than 10 years ago in Minqin county, about a six-hour drive from Lanzhou.
Wei is anxious to put the plant into production by the end of this year so he can process 200 tons of refined sunflower oil a day.
Because the construction work is not finished and the weather is getting colder, Wei's workers have been put on day and night shifts.
The workers built a three-story office building in 80 days but they have to erect another dozen 15-meter oil tanks before the first snow.
"The nearby freeways and airport will help me transport the products to southern and eastern cities by Spring Festival if the construction ends on time. We enjoy a steady growth in demand from developed areas," Wei said, sitting in a pre-fabricated building used as his office. It is just a few meters away from the site so the bulldozers outside shook it as we spoke.
For Wei, racing against time on the project is a win-or-die move, especially because he plans to get the company listed by the end of next year in Shanghai.
"For a private company, building a large plant in an under-construction economic zone needs a lot of courage. Time will tell if it was a good call," he said.
gaoyuan@chinadaily.com.cn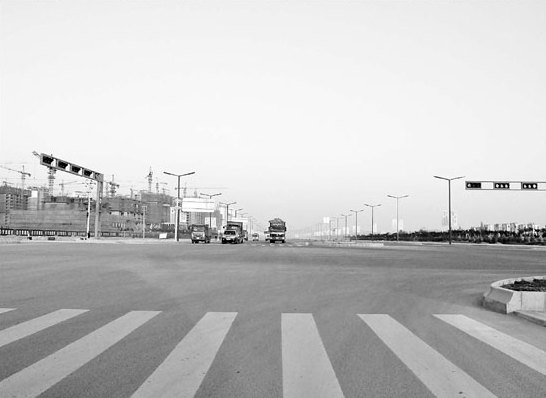 The road is ready and business is on the horizon. The Lanzhou New Zone project is aimed at propping up the economy for the comparatively less-developed western regions - not only Gansu province, where the zone is located, but the neighboring provinces of Qinghai, Shaanxi and Sichuan, as well as Ningxia Hui, Inner Mongolia and Xinjiang Uygur autonomous regions. Gao Yuan / China Daily
(China Daily 11/19/2012 page13)