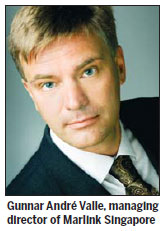 Leading marine global satellite communications provider Marlink has come a long way since the company was founded 25 years ago in Norway.
Today, more than 25 percent of all ships sailing the world's oceans with the aid of satellite communications use Marlink equipment, and the company continues to lead the industry in mobile satellite services and very small aperture terminals. Marlink's current global footprint is based on a network of offices in 12 locations, including Singapore.
"Vessels sail and trade globally, so to follow them around, we have offices in every major shipping port in the world," said Gunnar Andr Valle, managing director of Marlink Singapore.