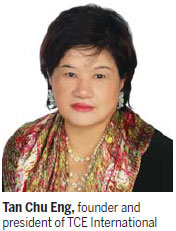 Singapore has blossomed into a world-renowned medical hub, and at the center of this growing industry is Tan Chu Eng, founder and president of TCE International.
The company offers comprehensive services for the healthcare industry, including clinical consulting, personnel training and marketing as well as turnkey projects and cultural studies across Southeast Asia and beyond.
Tan has more than 30 years of leadership experience in Singapore's healthcare sector, and she was formerly a senior manager at one of the island nation's biggest players in private healthcare.