Sina eyes new ad system on Weibo
Sina Corp, a major Chinese Web portal operator, plans to further generate revenue from its microblogging service by launching a new advertising system this quarter.
However, it expects advertising revenue, a major source of its income, to shrink in the current quarter compared with the previous one, mainly because a weak economic climate has led to a tightening of advertiser spending.
Sina will officially launch its advertising system targeting small and medium-sized enterprises on its microblogging service, Sina Weibo, in the current quarter, after it launched an advertisement display system in April, according to Charles Chao, Sina's chief executive officer and chairman.
The moves signified Weibo's increasing importance to the company, as is shown in its financial results.
Sina Weibo, which has more than 400 million registered accounts, accounted for 16 percent of Sina's total advertising revenue in the third quarter, up from 10 percent in the second quarter, Chao told a conference call on Friday.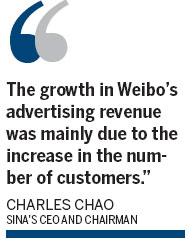 "The growth in Weibo's advertising revenue was mainly due to the increase in the number of customers and, to a lesser extent, increased spending for the Olympic Games," he said.
Sina's advertising revenue increased 19 percent to $120.6 million in the third quarter, while overall net revenue was $152.4 million, compared with $130.3 million a year earlier, the company said in its financial report.
Its net profit was $9.9 million in the last quarter, up from a loss of $336.3 million a year earlier.
Sina began to generate revenue from Weibo earlier this year with the special services it provides to corporate accounts and VIP membership sold to regular users.
Despite the growth in Weibo, however, the company is "going to see weaker advertising results overall for the fourth quarter" because of the weak economic outlook, Chao added.
Its Web portal competitors have all felt the pinch.
"The growth of the brand advertising business on portals alone was flat in the third quarter," said Qiu Lin, an Internet stock analyst at Guosen Securities Co Ltd.
Sohu.com Inc's brand advertising business grew only 2 percent year-on-year in the third quarter, and NetEase Inc's grew 10.2 percent, according to their financial reports.
Tencent Holdings Ltd registered year-on-year growth of 69 percent in its advertising business, Qiu said.
chenlimin@chinadaily.com.cn
(China Daily 11/17/2012 page9)
Today's Top News
Editor's picks
Most Viewed