Wenzhou aims to cut red tape for charities offering free food, tea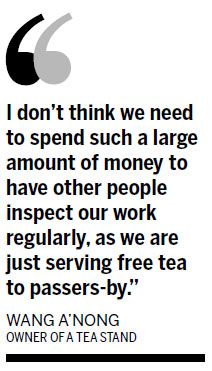 Wenzhou authorities have vowed to simplify licensing procedures for charity groups that want to offer residents free food and drink.
The city in Zhejiang province, one of China's richest, has a centuries-old tradition of altruism, and today it has at least 1,600 small, independently run street stalls that provide passers-by with simple dishes or tea.
But since the city government introduced a permit requirement early this year to standardize the sector, just one group has successfully applied.

Today's Top News
Editor's picks
Most Viewed