Hainan Monthly Special: Island province's reform a never-ending project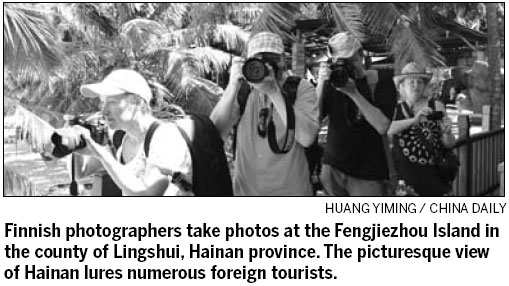 After nearly a decade of reform and integration into the world system, China's tropical island of Hainan has raised its global profile as a destination for tourism and investment.
To expand its connections with the outside over the past decade, Hainan has fully utilized its advantages in terms of location, resources and policies as well as its role as the birthplace of many Chinese who are currently overseas.
In these past 10 years, the province has worked to expand international exchanges and cooperation, improve its investment environment, pursue a mutually beneficial strategy of openness to the outside world and deepen regional cooperation.
These efforts have created a more open Hainan that is better connected to the world at large.
In 2001, the Boao Forum for Asia was established in Hainan and has since been held annually for 11 consecutive years.
It has grown into an important platform for China to have a say in policy that affects Asia as well as an opportunity to engage in international economic cooperation and cultural exchanges.
In 2003, Hainan received the approval of the Civil Aviation Administration of China to become the nation's first province to be granted the fifth air freedom, which allows a foreign airline to operate a flight between China and a country other than the one in which the airline is based as long as the flight originates or ends in the airline's home country.
In 2005, the Ministry of Transport officially announced new reforms at Macun port in Haikou that simplify approval procedures for foreign ships and help them get in and out of Hainan quickly.
In 2008, the State Council gave the provincial government the green light to establish the Haikou comprehensive bonded zone, which can not only speed up the development of the Beibu Gulf economic circle but is also conducive to exchanges and cooperation between Hainan and ASEAN nations, further increasing the degree of the province's openness.
In 2009, the development of Hainan into an international tourism island was upgraded to a national strategy.
In 2010, tourists from 26 countries were granted visa-free entry at Sanya Customs at Phoenix airport as part of the national plan.
There are many preferential policies that allow foreign airlines to have flight routes to Hainan, and the province now has the country's most flexible entry-and-exit policy.
The province implemented an offshore duty-free policy in April 2011 allowing travelers who leave the island by air to buy duty-free imported goods even if they do not leave the Chinese mainland.
In 2011, leaders of five BRICS countries - Brazil, Russia, India, China and South Africa - released the Sanya Declaration, a joint document, at the BRICS Leaders Meeting in southern Chinese resort city of Sanya.
In the same year, the 2011 annual meeting of the Boao Forum for Asia and the Second Roundtable Conference on China-Africa Cooperation were held in Hainan.
These major international gatherings have greatly enhanced the awareness and influence of Hainan.
Over the past decade, Hainan has striven to create a pattern of complete openness, and with creative efforts, the island has progressively opened its doors to the outside world.
Ten years of reform in key areas has created a healthy environment of sustained economic development coupled with social harmony and stability.
Contact the writers at huangyiming@chinadaily.com.cn, liuxiaoli@chinadaily.com.cn and chenlongxiang@chinadaily.com.cn
(China Daily 11/16/2012 page16)
Today's Top News
Editor's picks
Most Viewed