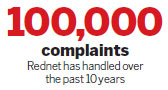 While his fellow delegates were busy unpacking their luggage or chatting upon arriving in the capital for the twice-a-decade, all-important Party congress, the first thing Shu Bin did was to take a picture with his cellphone and post it on his micro blog.
Shu has had a hectic week at the 18th National Congress of the Communist Party of China. Aside from attending to his duties as a delegate, he was busy covering the congress news and sharing it with his millions of readers in micro blog posts, not to mention being interviewed by virtually every influential media source in China.
Shu, 44, is head of the popular Hunan province news portal rednet.cn, which is known for its bold coverage of social problems. He was one of two delegates from online media at the congress.