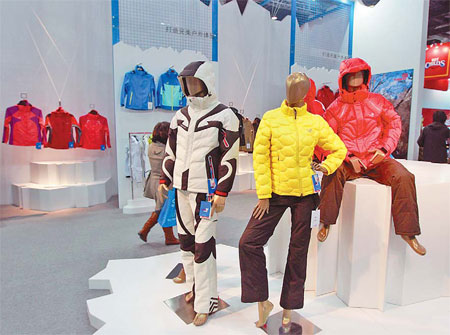 An International outdoor apparel exhibition in Beijing. According to the China Textile Commerce Association, China's outdoor apparel market has grown at an average annual rate of 47.33 percent from 2000 to 2010. A Qing / for China Daily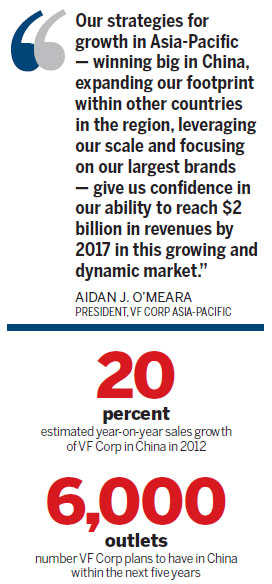 Local brand awareness is vital for VF's success
Walk through many malls in Shanghai and you will find, for example, a North Face store next to Columbia and Jack Wolfskin. Perhaps there will also be a Lee store and Gap, along with many local names nearby. For VF Corp, one of the largest US apparel manufacturers by sales revenue, competition in China is becoming fierce across its entire business spectrum.
So, as a profit-driven, shareholder-answering concern, the country may be a land of opportunity but it has to fight for its bit of what's available.
"Competition is increasing and we expect that will continue as others are looking for sources of growth, particularly international brands," said Aidan J. O'Meara, president of VF Asia-Pacific, who has been overseeing the Chinese market for more than five years.
As the owner of dozens of brands, including North Face, Lee, Wrangler and Timberland, VF sells a variety of clothes from jeans and outerwear to suits.
Taking just the outdoor category as an example, in which VF has strong brand awareness, there are 325 international outdoor labels and 229 domestic ones in China in 2010, according to China Outdoor Commerce Alliance. To make things more challenging, local manufacturers have become more and more competitive in recent years.
The Beijing-based outdoor brand Toread, with its more than 13-year history in China, has opened more than 1,000 stores around the nation. Its turnover reached 434 million yuan ($69.49 million) in 2010.
In the jeans sector, VF's Lee brand topped the ranks in terms of market share in China in 2012, according to China National Commercial Information Center. However, the local brand Meters/bonwe and Kipone also have broad market recognition among local customers. Fujian-based Kipone was one of the top 10 jeans brands measured by market share in 2012.
However, VF remains positive about the market and has introduced a rapid expansion plan to a broad customer base and increased market penetration around the nation. In the next five years, the company plans to add the number of stores and shops-in-shops to 6,000 from the current figure of about 2,300 and will have its brand introduced to smaller cities.
As part of the plan, VF will launch its largest distribution center in Kunshan, Suzhou city, in Jiangsu province, in 2013.
Looking forward, China is expected to contribute 60 percent of sales revenue to the company's Asia-Pacific region by 2017 compared with 50 percent to date.
O'Meara, 49, seems quite confident about achieving that goal, despite many experts warning there are too many apparel brands in the Chinese market and pointing to the fact that the nation's economic growth is cooling.
"We believe that China will remain a fast-growing economy which will become more consumption-driven in the future. We also believe in the strength and diversity of our brand portfolio with its proven relevance to Chinese customers," he said.
Under O'Meara's management, VF's China business reported more than 50 percent sales growth annually over the past five years. The number is projected to be 20 percent this year amid cooling economic growth and increasing competition.
O'Meara said the company plans to pay more attention to differentiating itself from others.
"When we say differentiate, we mean a high level of brand awareness compared with other brands and a functional differentiation," said O'Meara. "Differentiation means creating a distinctive personality."
As head of a US company wanting to expand in China, O'Meara recognizes how important it is to make the brand relevant to local people to expand the customer base.
"We spend a lot of time understanding the market and trying to connect our brands to the emotional and physical needs of customers," he said.
He took the skateboarding brand Vans as an example. The sport, which is popular in Western countries, came to China in the 1990s. Even now, few use a skateboard in China and those that do are mainly foreigners and overseas returnees.
The company has recognized the young generation's interest in new fashion and self-expression and tries to tell its brand story from a new angle to the Chinese.
"We talk about history, heritage and the personality of Vans. And we talk more about other aspects of Vans. We say the Vans' brand is very involved in the music industry, the youth music industry in North America," said O'Meara. "We are not saying 'Here we are. We are an American brand'. We want to make the global brands respected and to connect with the Chinese."
Having overseen the Chinese market for more than five years, O'Meara has his own way to connect with local consumers and obtain first-hand information about market trends.
Appointed as the president of VF Asia-Pacific region in 2007, O'Meara visits Shanghai at least once a month. He visits customers' homes and looks into people's wardrobes to see what they have. He has made such visits 12 to 15 times for VF's different brands in the past few years.
"It is important that I understand how our brands can connect with people and it is important to understand how people live. You cannot understand the role your brands play in their lives without understanding life," said O'Meara.
He also visits universities to see how the younger generation lives. He travels around Shanghai with them to understand their hobbies and interests. He would watch people doing tai chi in the city's parks in the morning to get a sense of how local people live and what is important to them.
Unlike VF, many companies prefer to invite certain focus groups to the office and discuss their preferences formally.
"Some companies do focus on groups and bring people into the office, but it is artificial and people are not comfortable. Sometimes they do not tell you the truth because they do not want to reveal it," said O'Meara. "You should see what people actually do, not just what they say they do."
To support growth in the Chinese market, the company plans to pay more attention to certain growing business sectors, such as the outdoor industry, a sector that "will be the most promising business in terms of growth potential", said O'Meara.
People's desire for a better life and willingness to participate in outdoor activities are the main reasons for the growth of the industry. Booming outdoor activities in China encourage businesses to leave no stone unturned to cash in on the opportunities.
According to the China Textile Commerce Association, China's outdoor apparel market has grown at an average annual rate of 47.33 percent from 2000 to 2010.
In 2011, total revenue in the sector reached 10.76 billion yuan, and the number of outdoor brands available in the country surged year-on-year by 29 percent to 717.
Columbia Sportswear, the US brand launched in the Chinese mainland market in 2004, has 530 stores in 135 cities. Its sales amounted to $123 million last year.
To cultivate the outdoor culture in China, VF launched its online platform to provide potential buyers with more information about outdoor activities.
"Chinese consumers are prosperous. More have leisure time and more have interests in traveling in and outside China. We think those trends will continue and are favorable," said O'Meara.
Currently, VF has more than 10 brands in the Chinese market and six are directly managed. Its jeans brand Lee and outdoor apparel brand The North Face are the best known among Chinese shoppers. China has become the second-largest market for the two brands globally.
Some premium brands such as Jeans Sports are run by local distributors.
"They are relatively small. We do not have enough specialist knowledge in China to be able to manage them," said O'Meara. "We are better off working with partners in the luxury goods area because they have good connections with landlords and a good customer base and they can use loyalty programs to encourage customers."
When he started work in China, O'Meara admitted he worried about fake products that might have negative impact on VF's image. Now he says he is not so worried.
"Chinese shoppers know where to buy real products. Customers do not want friends to know they buy counterfeit products. So there is less of a problem than I thought when I started here," said O'Meara.
VF, based in Greensboro, North Carolina, confirmed its previous 2012 outlook provided in late July for revenues in Asia to increase about 20 percent and for revenues in Europe to grow at a low double-digit rate.
O'Meara said: "Our strategies for growth in Asia-Pacific - winning big in China, expanding our footprint within other countries in the region, leveraging our scale and focusing on our largest brands - give us confidence in our ability to reach $2 billion in revenues by 2017 in this growing and dynamic market."
VF expects substantial growth in each major Asia-Pacific country during the next five years. China, currently comprising about half of the region's total revenues, is expected to account for 60 percent of total revenues by 2017, growing at an annual rate of about 21 percent over the next five years.
tangzhihao@chinadaily.com.cn
(China Daily 11/15/2012 page15)