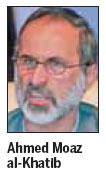 The leader of Syria's newly united opposition headed to Arab League headquarters in Cairo to push for diplomatic recognition on Monday, buoyed by the hard-won unity deal among the disparate factions.
Ahmed Moaz al-Khatib, 52, a moderate Muslim cleric who quit Syria three months ago, was to be accompanied on his visit by Qatari Prime Minister Sheikh Hamad bin Jassem al-Thani, whose government hosted the marathon four-day talks that culminated in Sunday's agreement.
The deal to form a new broad-based opposition structure to take the 20-month uprising forward drew a warm welcome from Western governments that had expressed mounting frustration with the leadership divisions as they are pushing to overthrow President Bashar al-Assad's government.