Express delivery firms say they are poised to handle record levels of business, on the back of an upcoming day that has become a shopping phenomenon in China.
This Sunday, Nov 11, is Singles' Day - started on Chinese university campuses in the 1990s - when "singles" across the country try to find a partner. It has grown into a cultural event for many.
But like many modern celebration days, this one now has huge commercial value, and delivery businesses across the nation have been gearing up for a surge in orders, mainly from unattached young people, and many made online.
Courier and delivery companies say they have been working hard to make the customer experience as cheap and easy as possible. They have been introducing various deals and offers to attract business, as have retailers.
China's express delivery sector was worth 48.9 billion yuan ($7.8 billion) in the first half of 2012, according to the latest data from China Express and Logistics Consulting website, an independent logistics think tank.
Da Wa, secretary-general of China Express Service Association, said that an estimated 800,000 couriers will be serving the many Singles' Day promotions being offered, a record 50 percent increase from last year. To meet the projected soaring demand, the country's top 10 couriers say they have added 29,500 vehicles to delivery fleets, expanded distribution centers by about 200,000 square meters, and recruited 65,000 extra personnel, Da said.
Online merchants, too, have been working hard to take commercial advantage of the social gala.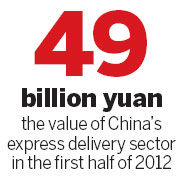 The country's top e-commerce provider, Alibaba Group Holding Ltd, for instance, has been publicizing the occasion fiercely.
After knocking 50 percent off full-priced items, the company said last year that combined revenue on Nov 11 was more than 5 billion yuan on Tmall and Taobao, its two online marketplaces. The resultant orders generated more than 22 million parcels on a single day, said Tmall spokeswoman Wang Ying.
This year, other Chinese retail giants are anxious to join the bonanza.
Leading electronics and appliance vendors Suning Appliance Co and Gome Electrical Appliances Holding Ltd, and online retailer Jingdong Mall, have all embarked on a string of steeply discounted Singles' Day promotions.
As a result, local express services have been competing for more staff, and more facilities, to handle the expected onslaught.
Shanghai-based YTO Express Co Ltd said it has been offering monthly salaries of up to 8,000 yuan to attract enough pairs of hands to cope. It has boosted its delivery fleet of vehicles by 30 percent, and expects to have 30,000 vehicles on the road nationwide on the day.
The same feverish preparation is going on at STO Express Co Ltd, also from Shanghai, which has raised its daily handling limit from 4 million units to 6 million units for the day.
"We have added two extra shifts and all our company executives will be working on the front line," said Xiong Dahai, the assistant to STO's chairman.
"But despite the hardships, it's worth the effort if our customers could receive their parcels in the shortest possible time," he said.
Another company in the city, Shanghai Yunda Express Service Co Ltd, said it has set up a special "Singles' Day Working Group" to ensure deliveries remain uninterrupted, even when they peak on Sunday.
Zhou Baigen, its head of marketing, said the company has learned from experience and added another 120 routes across the country, controlled by its 70 distribution centers nationally.
Many vendors selling products that have nothing to do with the festival have also introduced "slow delivery" services, for less urgent deliveries, to help prevent delays.
Wary of the possible logjam, for example, Nippon Paint (China) Co Ltd has offered its customers the chance to order products sold on Tmall two months in advance, said He Xingan, its director of distribution in China.
Wang Ying said the delivery cycle on Tmall has been lengthened to seven days, giving more flexibility to delivery companies to better allocate resources.
And companies insist they will not be charging extra during the period.
State-owned China Post Group has also entered the online shopping fray by collaborating with Tmall's Singles' Day event for the first time.
The move comes as one of its units, China Postal Express & Logistics Co Ltd, which offers the EMS express services, plans an initial public offering, according to the IPO prospectus posted on the website of China Securities Regulatory Commission.
The 9.98 billion yuan it plans to raise from the listing will be used to buy vehicles, airplanes and equipment, as well as fund an expansion of its network, it said.
Meanwhile, a new delivery company, Beijing ZJS Express Co Ltd, has pledged to charge "no higher" than traditional leading players, as it makes its debut in the market, to coincide with this year's Singles' Day.
"Our company has neglected online shopping in the past," said vice-president Lu Guorong. "But we can't risk missing this opportunity."
hewei@chinadaily.com.cn
(China Daily 11/10/2012 page9)