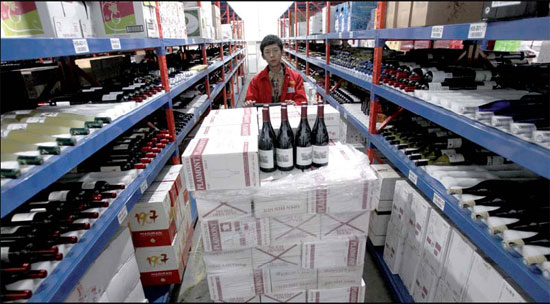 An employee at the warehouse of Beijing Jiuxian E-Commerce Co Ltd, a spirits seller that has decided to take part in the Nov 11 e-commerce promotion. The company sold 10 million yuan ($1.6 million) worth of spirits in last year's event. Zhang Wei / China Daily
For most e-commerce players in China, this Sunday may probably be the very day they both love and worry about.
A large online shopping promotion, most likely the biggest ever, will come as an opportunity for many to cash in on - and prove a huge test too.
The promotion, initiated by e-commerce giant Alibaba Group Holding Ltd, includes more than 10,000 vendors on its Tmall.com that will offer half-price discounts on Sunday. Major e-commerce websites, including Jingdong Mall and Amazon China, will also hold promotions that day, making the shopping event even bigger.
In the office of Beijing Jiuxian E-Commerce Co Ltd, a Beijing-based spirits seller, there is not just a smell of spirits, but also one of "war".
A digital clock at the office door counted down seconds for the upcoming promotion; a red banner hanging high on the wall to boost morale; and a "war map" including more than 100 work divisions occupied the most conspicuous place in the office.
"I am very excited and curious, but also wonder whether we can make it," said company Chairman Hao Hongfeng, who talked in his office after days of hard work.
The company sold spirits worth 10 million yuan ($1.6 million) in the event last year. Hao aims to boost sales by 10 times that amount on Sunday, which, if successful, will be the equivalent of a month in sales during the off-season.
"Sending out goods is the most challenging part," Hao said.
To achieve the goal, Hao has doubled the number of customer service staff to 100 and added three more warehouses from just one last year.
New automatic facilities have been put into use in the warehouses to facilitate work. The company can reduce the number of workers by 100 in the Beijing warehouse alone because of the automatic facilities, Hao said.
The Nov 11 event usually attracts a large number of online shoppers because of discounts. Daniel Zhang, president of Tmall, said on Wednesday that traffic to Tmall has exceeded the peak of last year's promotion.
The event, therefore, has attracted not only e-commerce vendors like Hao's company, but also traditional manufacturers that seldom use the Web as a sales channel.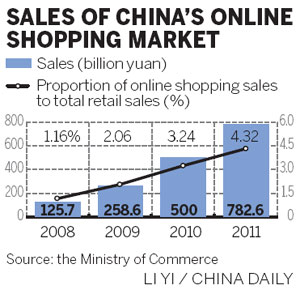 This is the case for Beijing Toread Camping Equipment Co Ltd, a major camping-clothes maker in China.
"We are big with our brick-and-mortar stores, but not yet online," said Liu Yanli, who heads the company's e-commerce arm.
The company tried its luck during last year's event when it "didn't know what it would bring", Liu said. It ended up with sales of 3 million yuan with its stock for the event completely cleared.
The company, however, was ambivalent, as online shopping has big potential but disrupts the pricing system in its brick-and-mortar stores.
Solving this conflict became part of Liu's task this year. "We have to grow online, but at the same time maintain profits in our traditional stores," she said. Her answer is to provide goods exclusively online.
About 80 percent of the products in the event this year will be of this kind, and the rest will be older inventory from past seasons, she said.
Like Hao, Liu also increased the workforce for customer service and warehousing. About 400 employees from the company's business partners will work for 24 hours sending packages of goods.
Liu and a dozen employees will stay up on Saturday and Sunday, to work as part-time customer-service workers. Sleeping bags have been prepared for their upcoming night shift.
She said she hoped Toread's online store can hit sales of 20 million yuan this year, which would be almost half of the company's online sales this year.
Last year, transactions worth 3.36 billion yuan were made on Tmall.com during the event.
chenlimin@chinadaily.com.cn
(China Daily 11/10/2012 page9)