The blind have difficulty with most popular software titles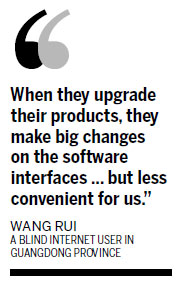 Popular domestic software programs are not user-friendly for blind people due to their developers' ignorance about the needs of residents with visual impairments, activists said.
Even with the help of Screen Reader, a software application that allows the visually impaired to surf the Internet by identifying and interpreting what is being displayed on the screen, blind people still found the software difficult to use, activists who promote information barrier-free rights for the blind said in a report.
These applications include Internet security product 360 Safeguard, download manager Xunlei Thunder and Sogou typewriting tool among the 10 most widely used programs in China.

Today's Top News
Editor's picks
Most Viewed