Predators use Facebook to abduct Indonesian girls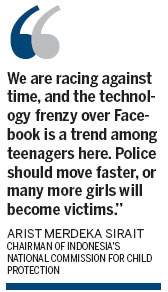 When a 14-year-old girl received a Facebook friend request from an older man she didn't know, she accepted it out of curiosity. It's a click she will forever regret, leading to a brutal story that has repeated itself as sexual predators find new ways to exploit Indonesia's growing obsession with social media.
The junior high student was quickly smitten by the man's smooth online flattery. They exchanged phone numbers, and his attention increased with rapid-fire texts. He convinced her to meet him in a mall, and she found him just as charming in person.
They agreed to meet again. After telling her mom she was going to visit a sick girlfriend on her way to church choir practice, she climbed into the man's minivan near her home in Depok, on the outskirts of the capital, Jakarta.

Today's Top News
Editor's picks
Most Viewed