Property lending surges in Q3 on land development
Updated: 2012-10-24 08:07
By Wang Xiaotian (China Daily)
| | | | | | | | | |
| --- | --- | --- | --- | --- | --- | --- | --- | --- |
|   | | Print | | Mail | | Large Medium  Small | 分享按钮 | 0 |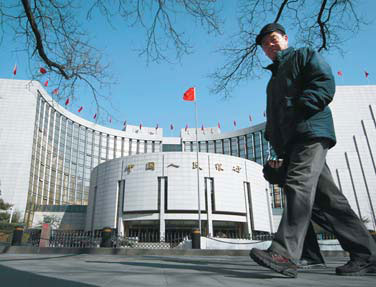 The headquarters of the People's Bank of China in Beijing. Data released by the PBOC showed more loans were extended to the real estate sector from July to September than during the second quarter of the year. Vincent Thian / AP
Property sector lending by Chinese financial institutions surged in the third quarter, especially for the development of land, despite the economy losing steam for seven consecutive quarters.
Data released by the People's Bank of China on Monday showed 416.8 billion yuan ($66.65 billion) was lent out to the real estate sector from July to September, a rise of 29 percent on the second quarter.
Total outstanding loans to the sector reached 11.74 trillion yuan by the end of September, up 12.2 percent year-on-year, and 1.9 percentage points higher than at the end of June.
The central bank said property loans took up 15.4 percent of total new loans extended from January to September, up from 12.3 percent in the first half of this year.
"The acceleration of such loans was mainly driven by a surge in loans for land development, obviously an effect of China fast-tracking investment plans to stabilize the economy," said Guo Tianyong, banking research director at the Central University of Finance and Economics.
Land development lending rose by 7.3 percent year-on-year to 846.1 billion yuan, 6.5 percentage points higher than the end of June.
Another main driver was individual home loans, which reached 7.8 trillion yuan, up by 12.6 percent year-on-year, and 1.6 percentage points higher than three months earlier.
Guo predicted that loans for land development were likely to continue growing at a faster pace in the coming months, as more investment projects kick off.
"But lending to both individuals and property developers is unlikely to show a substantial increase, given the curbs on the market will still be there," he added.
Premier Wen Jiabao said last week that the government will stick to its current policy of curbing the real estate sector and promoting the construction of affordable housing, as well as land supply for residential housing.
September saw a rise in the number of home sales on a monthly basis, as sales by 20 large-scale listed real estate companies increased by 10 percent from August, to 65.8 billion yuan.
Sales in the first nine months reached 488.9 billion yuan, up by 8.1 percent from the same period last year.
However, banks still appear cautious about extending loans to property developers, as concerns remain over asset quality during the economic slowdown.
Real estate development lending increased by 12.1 percent in the third quarter to 2.96 trillion yuan, 0.8 percentage points faster than the second quarter.
Commercial banks have been instructed to offer different conditions to different types of property lender, for example, encouraging loans to individual home buyers at discounted interest rates, while still limiting lending to developers, according to regulators.
"Our lending policy has not loosened in recent months for property developers, as the market still faces big uncertainties," said Yang Bin, deputy general manager of Corporate & Investment Banking at Shanghai Pudong Development Bank Co Ltd.
Chinese economic growth slowed in the last quarter to 7.4 percent, the lowest in 14 quarters.
The central government has approved up to 7 trillion yuan for infrastructure investments since May to spur growth.
Lending to support fixed-asset investment went up by 10.9 percent year-on-year to 20.74 trillion yuan by the end of September, 0.6 point higher than in the three months earlier.
Total outstanding loans stood at 61.5 trillion yuan by the end of September, up by 16.3 percent year-on-year, said the PBOC.
wangxiaotian@chinadaily.com.cn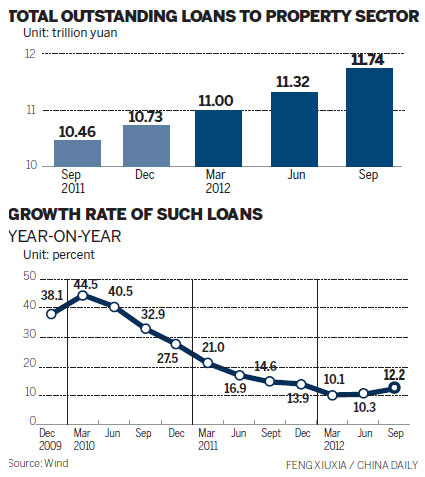 (China Daily 10/24/2012 page15)