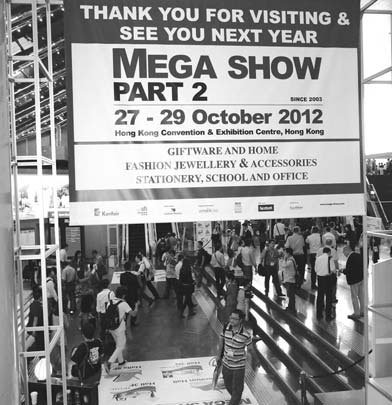 Throngs of visitors and trade representatives are expected to visit the Mega Show Part II from Oct 27 to 29. Provided to China Daily
A wide assortment of modestly priced goods designed and produced in Asia will marketed to buyers from around the world at one of Hong Kong's most influential sourcing events, Mega Show Part II, which will run from Oct 27 to 29.
Known around the world as a diverse buying and selling platform, the event this year will concentrate on gifts, home decorations, housewares and home textiles, and a new dedicated zone displaying the best in Asian pens, printing and paper supplies from more than 200 selected distributors.
More than 850 reliable and experienced exhibitors from more than 12 Asian countries and beyond will present their new products in more than 950 booths to nearly 20,000 international importers, distributors, wholesalers and trade buyers visiting Hong Kong.
Some 150 companies are also contributing to the importance of sustainability by including "go green" products across all sectors of consumer retail goods and will be presenting eco-friendly products under the expanding "go green" campaign.
The show is scheduled to be held shortly after Mega Show Part I, which closed yesterday. The first part came on the heels of Guangdong's Canton Fair since all of the sourcing events are timed to coincide with exporters' production cycles.
Kenfair Exhibition Ltd, which is hosting the show, has announced that the venue for Mega Show Part II will be the award-winning Hong Kong Convention and Exhibition Center.
"We are very proud of the contribution that Mega Show has made to the sourcing industry. We believe that the growth of the show reflects the innovation and quality that Asian suppliers now deliver globally," said Franki Si, senior manager of Kenfair.
The show, first launched in 2003, has built a reputation over the past 10 years of being the last stop for buyers seeking suppliers of competitively priced export-ready products from Asia and China. The second part includes all the suppliers not represented in the previous event.
The show also takes place concurrently with a lighting business event in Hong Kong, which provides further opportunities for buyers to source, compare and select from a wide range of related home and gift products from the Asian suppliers at the show.
The show's organizers are striving to improve the quality of the event to continue its success. It will also set up three specific merchandise zones, each in a dedicated hall location, making this compact event more navigable for the 16,000 buyers who regularly attend.
The clearly defined product sectors that have been part of the shows for the past two years have been further refined to ensure buyers and sellers maximize the benefits gained over the course of the three-day expo.
For more information, please visit: www.mega-show.com
zhangshiyi@chinadaily.com.cn
(China Daily 10/24/2012 page14)